A Fresh Look at Japan's New Asianism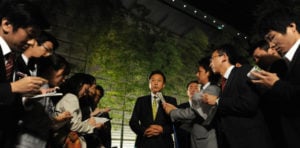 By way of wiping off the dust that has collected on this blog I would like to draw attention to a thoughtful piece of analysis by APARC's Daniel Sneider, published recently by the National Bureau of Asian Research.
The thrust of his argument:
"In 2009 the DPJ came to power in Japan, ending a half-century of conservative rule, with the hope of reshaping the post–Cold War order by rebalancing Japanese policy with a greater emphasis on Asia, inspired by a "new Asianism." Instead, the party's first year in office was marked by foreign policy tensions—first with the U.S. over bases in Okinawa, followed by clashes with China in the Senkaku Islands. The DPJ has moved painfully along the learning curve from opposition politics to the realities of governance. On both sides of the Pacific, policymakers now believe the rocky transition has led to a restoration of the postwar consensus, particularly regarding the U.S.-Japan security relationship. But it would be wrong to conclude that DPJ policies, shaped during the party's formative years by key leaders who remain largely in place, have been simply thrown aside. The new Asianism, which should not be understood as a "pro- China" shift but rather as an effort to manage the rise of China, remains a core identity of the DPJ."
In turns, Sneider addresses the chaotic beginnings of the DPJ, the emergence of a new Asianism within its ranks, DPJ foreign policy and its implications for regional security and the once bar-none alliance, and a concrete set of policy implications for the DPJ. (For anyone curious as to how Sneider's thoughts on the DPJ's new Asianism have evolved over time I suggest reading this article against one of his first articulations of the idea shortly after the ascension of the DPJ in 2009.)
I agree with almost all of his assessment (and have supported the New Asianism paradigm elsewhere) but I do find his piece somewhat narrow in its focus on the China Question. While no doubt important, much could also be said about the DPJ's stance towards the Korean peninsula, Taiwan, India, and many other regional partners. If we want to view the DPJ's new Asianism as a coherent foreign policy doctrine it is absolutely critical that we seek out the inconsistencies and multiple centers of gravity that sit at its core. It is indeed easy (if not tempting) to seize on what seems like a coherent set of policies within the DPJ, but as Sneider himself concedes, the jury is far from out on new Asianism and what it means for the DPJ's political fortunes.
One also wonders how, if at all, the disaster-in-installments of this past March might cast Sneider's piece in a new light. Jeffrey Hornung's notion of "Disaster Nationalism" certainly provides some food for thought.