Secretary Clinton Nudges India to Embrace the Leadership Role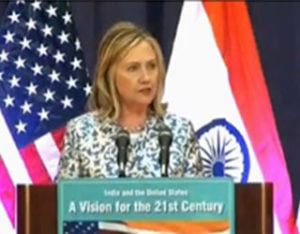 For many in India, Secretary Clinton's visit this week was reassuring; reassuring that India was still United State's most favored partner in the region. Secretary Clinton's visit was part of the second annual India-U.S. Strategic Dialogue initiated last year. Strategic dimension of the interactions received maximum attention in the media and among analysts. The insistence on need for India to engage in leadership diplomacy in Asia was warmly welcomed. Moreover, agreements on small ticket items demonstrated the growing strength of bilateral relations.
Timing of the strategic dialogue was crucial for India. Obama Administration's approach to gradually disengage from Afghanistan caused understandable unease in India. India feared that Pakistan's rouge elements would fill in the vacuum and use the opportunity to hurt India's stability. The decision by United States, barely a week before Secretary's Clinton, to suspend and in some cases cancel, nearly $800 million in military aid to Pakistan, slated for the country's armed forces was welcomed in India as a much required measure. India views strengthening of strategic bilateral relations with the U.S. and suspension of aid to Pakistani military as vindication of it's own role as regional leader. The change in India's stand with regard to the controversial issue of reconciliation with the Taliban seems to have had the desired fall-out. Though an over-statement, David Rothkopf views Secretary Clinton's statement that the U.S. and India are "allies in the fight against violent extremist networks" as essentially the announcement of an alliance against Pakistan.
Another dimension of regional balance of power related to the need for India's assertive diplomacy in the Asian region. Secretary Clinton reasserted President Obama's message to the Indian Parliament last year that India should not only look to the east but also engage with the East Asian nations. Secretary Clinton in her speech pressed leadership responsibilities on India by stating that,
New Delhi should exercise political influence to match its fast-growing economic muscle… This is not a time when any of us can afford to look inward at the expense of looking outward. This is a time to seize the opportunities of the 21st century and it is a time to lead.
As part of this process both sides agreed to launch Central Asia Dialogue in June 2011 in New Delhi, West Asia Dialogue in July 2011 in Washington DC and trilateral dialogue with Japan soon. Here recognition by the U.S. is not sufficient; it would require responsible, astute diplomacy and some difficult decision making by India.
Other areas of the strategic relationship which showed signs of both opportunity and challenge include the civil nuclear agreement and weapons technology. The new restriction on enrichment and reprocessing technologies announced by the Nuclear Suppliers Group earlier this year clearly disfavour India. Doubts remain despite Secretary Clinton's assurance that "Nothing about the new enrichment and reprocessing transfer restrictions agreed to by the Nuclear Suppliers Group members should be construed as detracting from the unique impact and importance of the U.S.-India Civil Nuclear Agreement or our commitment to full civil nuclear cooperation." U.S.-India bilateral nuclear trade is further challenged by a liability law passed by India's parliament last year. According to Stephen P. Cohen and Sunil Dasgupta,
Americans see India as a risky state that overemphasizes technology as a route to military modernization. India clearly sees the restrictions as a hurdle, and the restrictions play both a substantive and a symbolic role. Substantively, some items are denied to India, but symbolically this means that the United States still does not see India as a close partner.
As the Washington Post observes "Homeland security" is the new buzzword in U.S.-India relations. However, there has been little cooperation on the ground. Stringent U.S. rules on security technology prevent Indians from importing many of the most advanced American systems. For India and other countries to gain access, U.S. laws demand that they sign agreements subjecting them to regular inspections and limiting how they use the equipment and whom they share it with.
Both sides signed a series of agreements relating to cyber security, climate, air safety, clean energy, space and satellites and e-governance projects. Most of these agreements, though overlooked in the media or public discussions, are crucial for India. Ranging from Clean Cookstoves and projects commercializing healthcare technologies to Bilateral Aviation Safety Agreement and "Data.gov" (e-governance web applications) the visit signaled a wide-ranging partnership for the future.
There is little doubt that India-U.S. relations are poised to improve in future despite occasional disagreements. The United States has in recent years appreciated India's leadership potential. So Secretary Clinton's visit signalled a continuation rather than dramatic change in the tone of bilateral relations. For India, it's important to view this partnership as both as an opportunity and a responsibility. Recognition by America, as reflected in Secretary Clinton's speeches also implies that India will have to shoulder more responsibilities and undertake skilful diplomacy. Rather than merely basking in the shower of American praise, India should get ready for making some difficult foreign policy decisions and pragmatize her foreign policy approach. Pro-democracy uprisings in Middle East and North Africa, Iran's nuclear ambitions, Burma's authoritarian regime and adjusting relations with China are few challenges that will require to be balanced with closer partnership with the U.S.