APEC: A Predictable Exercise in Corruption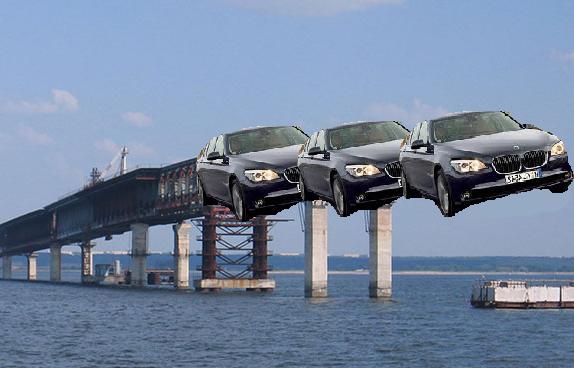 Last year, Russian people stuck it to the Man by painting a giant penis on a St Petersburg drawbridge. The Kremlin's revenge sends that message right back. It's much less funny, much more obscene, but also involves a bridge: a $1.3 billion bridge to a remote island as part of an overall $24 billion bill for hosting the APEC Summit, financed by the country's already recession-crushed citizens to be carved up by politicians and well-connected bureaucrats. And now, an extra $11 million for a few luxury BMWs.
As described in my recent article at The Nation, corruption, not authoritarianism, has become Russia's biggest civil society recruitment tool.
One of the Putin-Medvedev government's most cynical hallmarks is to line its pockets under the cover of increasing Russia's international prestige. Perhaps aware of the people's experience-accumulated cynicism, they aren't even bothering to cover it up that much, either. Thus, practically every ordinary person you meet will tell you that the Sochi Olympics, the Soccer World Cup, and the APEC Summit serve only one purpose: to expropriate and launder state funds.
Each week, new revelations of waste, hidden spending and abuse of power during the APEC preparation add fresh layers of dark irony to Medvedev's infamous claim that "this is the only construction site in Russia where the de-facto expenditure did not exceed the planned one".
Here's the most latest one:
Yesterday, the liberal online daily Gazeta.ru reported that the government made available an extra $11.2 million to buy 120 brand new luxury BMWs to transport summit guests. The request had previously been rejected by the treasury on the grounds that there are already plenty of limos to ferry visiting dignitaries: the office of the President has a whopping 107 BMW 7 Series, 179 5 Series and over 300 luxury Ford Mondeos clogging up its car park. Yet mysteriously the original refusal was somehow quietly overturned. One source cited the need to honour an "unspoken rule" that visiting dignitaries must travel on brand new cars.
The more important rule is that once the summit is over, 120 lucky bureaucrats will be rewarded for their loyalty with some very nice wheels.