Africa Links Deluge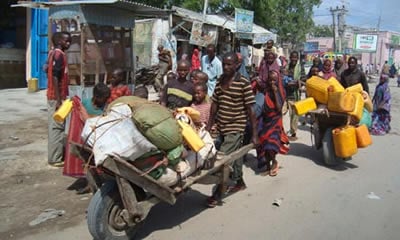 Lots of stories have been cavorting around my head, with commentary as I see fit:
The disaster in the Horn of Africa represents what the Mail & Guardian calls "a crisis in slow motion." The perfect storm of famine and the political chaos in Somalia has led to a humanitarian nightmare. The west (ie the United States) has exacerbated it by blindly throwing arms at potential allies without thinking through the consequences.
Famine, of course, is in part a function of drought, but it is even more a function of politics. Drought does not inevitably lead to famine. That said, drought seems quite clearly linked to climate change, and those changes quite clearly have negative ramifications even in countries such as Botswana, long hailed for its relative political stability.
Guernica has recently devoted two stories to Africa. One is an excerpt from Chinua Achebe's 1966 novel Chike and the River, which will be available in a new paperback edition this month. The other is Joanna Eede's argument against building Ethiopia's Gibe III dam, which if completed will be the tallest dam in Africa.
Following the Arab Spring there is now talk about the "African Summer," especially in the wake of events in Malawi. Beyond the fact that in Africa it's not actually, you know, summer, I actually think we need to rethink the idea of an Arab Spring itself. Are events in Egypt and Libya really more similar than they are different? I'm not certain what connecting rod I can find between various political upheavals and protests and general difficulties in sub-Saharan Africa that would warrant any particular linking label. I especially find those labels problematic for those who look at them through an almost solely western (really northern) lens. (And to be fair, the "African Summer" article linked above makes some of these points and does not argue for a unifying theory of African protest).
Speaking of Libya, is it at all possible that Muammar Gaddafi could ever yield power and remain in the country? That seems like an impossibility, not to mention a nightmare for the country's potential stability going forward.
This is a terribly sad story about Uganda's Rev. John Foundation Little League team, the first team from Africa to qualify for the Little League World Series. Apparently some questions about player ages led to the State department denying their visas and so the tournament will go on without them. (Of course this is an even sadder story from Uganda.)
A group of elderly women is taking the matter of addressing rape in Nairobi's slum into its own hands by promoting self defense among "kung fu grannies."
On Friday President Obama was scheduled to meet with four African leaders, including Cote d'Ivoire's new president Alessane Ouattara, Benin's President Boni Yayi, President Alpha Conde of Guinea and Niger's President Mahamadou Issoufou. Obama has done a good job of holding meetings with African leaders. it is somewhat harder to tell how this engagement has translated into policy.
In Nigeria newly elected President Jonathan Goodluck has called for a constitutional amendment that would establish one-term limits for future presidents. Obviously if that law goes into effect he too should recognize its spirit by stepping down after his term is completed. And if this happens it will be a tremendous model for regional governance.
A few weeks back assassins tried to kill Guinea's President Alpha Conde. The state has opened up an investigation. Suffice it to say that fragile Guinea does not need this kind of destabilizing nonsense.
Go here to download the International Center for Transitional Justice report on how Kenya needs to deal with the election that shattered the country after its December 2007 election.
Everybody loves chocolate, right? Well, that doesn't mean that the procurement of chocolate's most necessary ingredient is always smile inducing.
South Sudan is now the African Union's 54th member. Of course plenty of tricky issues remain for negotiation (and beware that negotiation can sometimes happen under duress, which is rarely ideal for the weaker party).