House Dems En Route to Israel, West Bank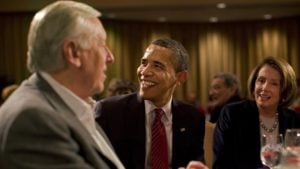 Over two dozen House Democrats are preparing a week-long trip to Israel and the West Bank only a month out from Palestinian attempts to unilaterally declare statehood and days after reports surfaced that Israeli Prime Minister Binyamin Netanyahu has reversed his opposition to using 1967 borders as the baseline for negotiations. The group of Democrats — led by Minority Whip Steny Hoyer — will be in Israel and the Palestinian territory from Aug. 8-14, and will "learn more about issues critical to the U.S.-Israel relationship and international security," according to statement on the trip.
The delegation will meet Netanyahu, Palestinian President Mahmoud Abbas, Israeli President Shimon Peres and Palestinian Prime Minister Salam Fayyad, who has spearheaded an institution building program in the West Bank that has been credited with some increase in the economic conditions in the territory and could assist a future Palestinian state if unilateral sovereignty declarations are fulfilled. The trip, organized by the American Israel Education Foundation, will include a trip to the Yad Vashem Holocaust Memorial.
The unilateral statehood declaration could come to a pass at the United Nations next month, as the Palestinians have attempted to galvanize support for the move, which is opposed by both Israel and the United States for essentially skirting negotiations.
Separately, Netanyahu and many pro-Israel groups decried President Barack Obama's assertion that any future peace deal should be based on 1967 lines, with critics of the plan contending that it would put Israel in serious jeopardy and does not take into account demographic shifts in the last 40 years. Obama countered, though, that he suggested basing the borders on 1967 lines and therefore allowing some land swaps, with Netanyahu only lessening his rhetoric after a long meeting at the White House earlier this year.
Statement from Hoyer:
"I look forward to returning to Israel to continue learning first-hand about the evolving security situation in the Middle East, the deep challenges facing Israel, and the role the United States can play in the region during this time of uncertainty. …  I'm pleased Members of Congress have this opportunity to study American interests in the Middle East and gain a deeper understanding of the issues involved in increasing stability in the region."