Action on Syria Heats Up: U.S. Congress Wants Tightened Sanctions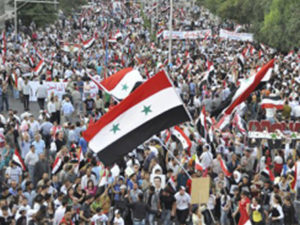 The U.S. Congress is not waiting for the UN Security Council to act on calls to sanction Syria for 1) attempting to build a covert nuclear facility with North Korean support, 2) brutally cracking down on protesters calling for reform and 3) assisting Hezbollah by providing it with ballistic missiles.
On August 5, House Foreign Affairs Committee Chairman Ileana Ros-Lehtinen (R-FL), and Ranking Member Howard Berman (D-CA) led a bipartisan letter signed by 221 members of Congress from both sides of the aisle urging President Obama to more fully implement the Syria Accountability and Lebanese Sovereignty Restoration Act (P.L. 108-175) of 2003. Specifically, they asked that he prohibit U.S. businesses from operating in Syria; and "block transactions in any property in which the government of Syria has an interest, by any person, or with respect to any property, subject to the jurisdiction of the United States." In addition, the legislators urged that President Obama apply 'the full range of Iran, North Korea and Syria Nonproliferation Act sanctions on any foreign entity that knowingly transfers to Syria the means by which to develop nuclear, chemical, biological weapons or ballistic or cruise missile systems." The sheer number of signers of the letter is meaningful: apparently, there is something Congress can agree upon. Nuclear weapons: bad. Brutal repression: also bad. Terrorism: not a fan.
Just two days prior, Senators Kirsten Gillibrand (D-NY), Mark Kirk (R-Ill) and Joseph Lieberman (I-CT) introduced S. 1472, "the Syria Sanctions Act of 2011". That bill would block access to the U.S. financial system, markets, and federal contracts for companies that invest in Syria's energy sector, purchase its oil, and sell gasoline to Syria. The bill targets the oil and gas sector of Syria's economy chiefly because nearly one/third of its export revenues come from oil. The sanctions would remain in effect until Syria transitions to a democratic government, ends support for Hezbollah and other terrorist groups, and halts efforts to built a nuclear program and trade in missile technology.
To date, the Administration has imposed sanctions on Syrian President Bashar al-Assad and members of his family. The Assad-specific sanctions, enacted via Presidential Directive on May 18th, prohibits any business dealings between anyone in the U.S. and the members of the regime targeted by the sanctions: Assad, Vice President Farouk al-Shara, Prime Minister Adel Safar, Interior Minister Mohammed Ibrahim al-Shaar, Defense Minister Ali Habib Mahmoud, Military Intelligence chief Abdul Fatah Qudsiya, and Political Security Director Mohammed Dib Zaitoun. These Executive Orders build on a May 2004 executive order that declared actions of the Syrian government a threat to U.S. national security, foreign policy, and the economy.
It should be noted that the sanctions may not have much effect. The U.S. does not hold significant Syrian assets because of its prickly relationship with the al-Assad regime, but the move might set a precedent for a similar freeze in European countries, where Syrian officials have more holdings. The British and French governments have been making noise about upping sanctions on Syria but it remains to be seen if they will each act unilaterally in lieu of UN action.