The Earth Dream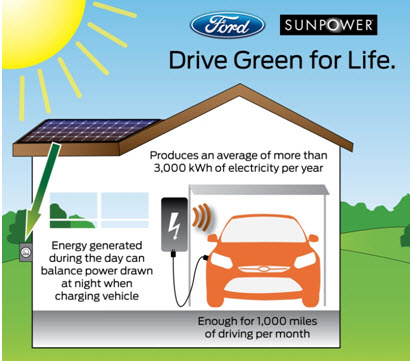 We refer to the American dream.  You know how it goes:  house with a yard (with a blisteringly bright green lawn, swimming in fertilizers and pesticides), two cars in the garage, AC at a touch (freezing your brain, making you sick and drawing more and more power), that big plasma TV on which to watch the ball games, and a barbecue in the backyard to grill your meat.  (Don't get me started on that.)
I've got a slightly better dream.  Better?  Well, yes, if you consider the "externalities" of various ways we go about our business.  My Earth Dream produces very little pollution, is healthier for the people who live it – including making you thinner (guaranteed), makes you happier, and saves you money.
Ford and SunPower are bringing you closer to the Earth Dream.  They've just announced a partnership to "Drive Green for Life."  Ford will sell you a  Focus Electric, one of its fabulous line of hybrids, plug-in hybrid electric vehicles (PHEV), and all-electric vehicles (EV), and, at the same time, you can get the solar photovoltaic system to power it from SunPower.  (Thanks to the ubiquitous Katie Fehrenbacher of GigaOm for her story.)
I have seen the future, folks, and this time it really does work.