"If I Can't Have You the Way I Want You, I Quit"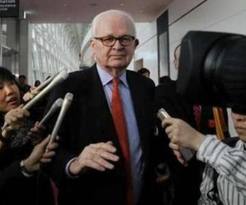 While the world's focus was turned on America's debt fiasco, over the past few weeks the sun has begun to shine from behind the clouds that have hovered over the Korean peninsula for the last year. On July 29, Special Representative for North Korean Policy, Stephen W. Bosworth, briefed the press on the conclusion of a two-day discussion with a delegation from the Democratic Peoples Republic of Korea at the United Nations. During talks  senior State Department officials reiterated to the DPRK's representatives that the US is open to talks with North Korea if it "demonstrates through its actions that it supports the resumption of the six-party process as a committed and constructive partner."
Ambassador Bosworth's statement shows promise but also reflects an overarching problem in US Foreign Policy, best described by the lyrics of an Adele song: "if I can't have you the way I want you, I quit." It is often the diplomatic strategy of the United States to cease or drastically reduce dialogue with states that do not behave according to its expectations; until the US decides it wants something from that state. This is what US did during fifty years of relations with Pakistan and what it continues to do with North Korea.
Dr. Robert Carlin of CSIS captured this pattern perfectly in his March testimony to the Senate Foreign Relations committee:
"Our problems dealing with North Korea are not confined to one administration or party. In the deepest sense, they reflect our national inability, intellectually and emotionally, to understand how states work…Our difficulties are compounded by the fact that public discourse about the North in the US has long been crippled, condescending, irrelevant, and, like heartburn, episodic."
In combination with domestic factors, the US' approach has lead to a highly suspicious, defensive, and unresponsive North Korea.
If the events of the last year are any indication, it is clear the United States needs to change the way it approaches diplomatic relations with intractable cases like North Korea. Another portion of Ambassador Bosworth's remarks on July 29 points toward a smarter approach. According to the Ambassador, if North Korea is ready for "improved relations with the United States and greater regional stability" then the United States is open to talks.
Creating an open dialogue is key for the future of the US' relationship with North Korea. By finding overlapping interests to begin a dialogue the US can start to build a relationship, if not trust, with North Korea. Creating a stable dialogue would help solve one of the greatest obstacles the US faces in its dealings with North Korea—a lack of intelligence on the conditions within the DPRK. This is not to say that the US should discontinue the six-party talks; it should continue to pursue a non-nuclear North Korea. If there is no dialogue, then there is no chance for even modest progress. However, it is important for US negotiators to realize that at this point nuclear weapons are too important a part of the North Korean foreign policy strategy to give their weapons up any time soon.
In sum, the US should seize this opportunity to begin to build a new dialogue with North Korea. While it might be "talking for talking's sake", creating a channel for exchange will increase the US' knowledge of North Korean thinking and build a basis for negotiations in the future. Hopefully, this will prove an effective model for US diplomacy and the US can move away from its current approach of "if I can't have you the way I want you, I quit." It might work for interpersonal relationships, but lets hope our nation can advance past the diplomatic strategy of twenty year-olds.