Summer In the City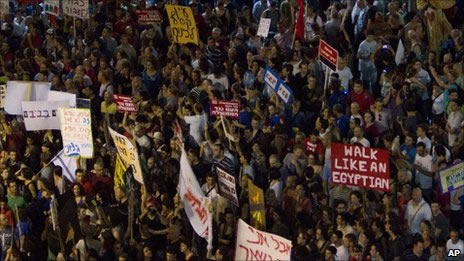 The recent outbreak of violence along the Egyptian-Israeli border has momentarily diverted the Israeli public's attention from the "tent" protests sweeping the country over the last few months. However, it appears that the protest movement will sustain its inertia. Although student-union led protests scheduled to occur over the weekend were cancelled, sizable protests took place in Tel Aviv and the northern city of Kiryat Shmona on Saturday.
The demonstrations did not materialize with a prepackaged, coherent agenda, but one of the first platforms to emerge was a frustration with the unaffordable housing in the cosmopolitan city of Tel Aviv. As anyone who has been to Tel Aviv in the summer knows, the city is overrun by French (and to a lesser extent, American) tourists, many of whom have purchased vacation apartments in the city. When I lived in Tel Aviv in the summer of 2009, I used to make small talk with the taxi drivers, and if I recall correctly, not one of them lived in the city itself. Many of them grumbled about the French tourists' effect on the city's housing market. I did not mention that the drivers benefited significantly from their endless ferrying of these tourists to and from the city's cafes, restaurants, and beaches.
The protests have since spread into other cities in Israel and have broadened into a more general protest about the cost of living for the middle-class. Whether this expansion has been primarily organic or a deliberate attempt to adopt a more populist, sweeping agenda is a matter of some debate. However, the initial focus on Tel-Aviv's real estate market presents an interesting dilemma that Israeli intellectuals (if not its working-class citizenry) are eager to avoid. The modern state was created more or less out of Jewish migration in the past 150 years, and its culture and legislation have reflected its self-image as an unconditional home for any Jew. Given the "nativists" frustration with their economic status, should the government really consider policies to limit the ability of non-Israelis to buy property in Israel? Earlier this year, the government had already enacted reforms aimed at cooling the real estate market, such as increasing land purchase taxes on non-primary residences. More protective policies would likely hurt the pocketbooks of the thousands of Israelis- the tourism industry indirectly supports about 230,000 jobs, or 8.0% of total employment. An even graver consequence of such actions is the potential damage they may have on the emotional connection that non-Israeli Jews feel toward the country. Given the imminent vote on Palestinian statehood in the UN and the groundswell of resentment toward Israel it may trigger, it does not seem like an opportune time for Israel to alienate any of its supporters.