The Children of Yemen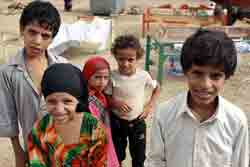 For the past 8 months, Yemen has been thrown into the midst of a popular uprising of such intensity that it has left its governmental institutions in tatters and its economy in ruins.
Enthralled in a fight against alleged Islamic militants in the south and a tribal war in the north, Yemen has had to bear more than its fair share of catastrophes.
But more worrying yet, it seems that its children are suffering the most, literally left out "in the cold".
Alarming Report
The UN Children's Agency has reported that its recent study of the situation in Yemen led it to believe that thousands of children across the country were on the verge of starvation. Geert Cappelaere, a UNICEF representative in Yemen said: "Yemen could become the next Somalia as child malnutrition is as big as it is in the Horn of Africa." And if Africa has indeed now become the media's poster cry for help, it is important to realize that in Yemen too, a grave humanitarian crisis is unfolding. Thousands upon thousands of children are potentially facing death if nothing is done soon.
Well before the revolution even started, Yemen was the poorest country of the Arabic peninsula, with 40% of its population living under $2 per day. The recent events have now exacerbated Yemenis' financial difficulties, especially since the economic meltdown forced most businesses to let go of their staff. As a result, more people have been pushed below the poverty line.
Furthermore, over 5,000 families in the northern region of Arhab are currently living in caves, forced to flee the war zone as government forces continue their daily air raids in a bid to stifle the mounting tribal opposition. Not content to have cut off the entire area from the basic necessities: water, electricity and fuel; the Republican Guards are now preventing food and medicine supplies to go through. "They [the Republican Guards] are preventing trucks from passing through, they want us to starve for we stood up against the regime," said Ahmed an Arhab tribesman.
In Abyan, again, thousands have had to flee the fighting, finding refuge in abandoned warehouses and schools. Those people left with nothing but what they were wearing…
With little to no help from the international community, Yemenis are struggling to get these people the help they need and deserve. Some locals did step up and organized some aid relief through the sponsorship of prominent businessmen and politicians, trying to feed the humanitarian gap; but despite their best efforts the continuous arrival of new refugees has left them drained and helpless.
A recent survey conducted by some local NGOs highlighted the fact that 39% of the children under 5 in the Hajjah governate were suffering from global acute malnutrition (GAM). About 8.5% of these children's conditions are so severe that they might be beyond medical help. "The preliminary levels of reported GAM are concerning and exceed the emergency threshold, which is indicative that the situation is deteriorating despite existing interventions in Haradh district of Hajjah] since December 2009," read the report issued by the UN Office for the Coordination of Humanitarian Affairs.
No Food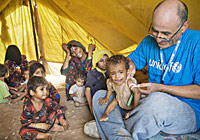 Several displaced families from Abyan revealed that feeding their children had become an almost impossible task. The fact that those people have to often live in unhealthy quarters with no access to clean water is causing an increase in health problems amongst the most vulnerable.
"My two-year-old son, Zaid, has been losing weight by the day since he went down with diarrhea two weeks ago," said Amatalim Saleh who found shelter in a school in Aden Mansoora's district. "He also suffers from dehydration, vomiting and loss of appetite," she told IRIN. "The only thing he asks me to give him is water, as his throat is often dry," added Saleh, who lost her three-year-old baby girl, last month. Sadly, this family is sharing the fate of thousands of others across the south. According to the Yemeni official news agency, a reported 100,000 people have been displaced since the beginning of the conflict in Abyan.
Aid workers in Aden have now established two therapeutic feeding centers in government run hospitals in order to treat severely malnourished children. "We have established two therapeutic feeding centers in two government-run hospitals – Wahda Hospital in Aden, and Ibn Khaldoon Hospital in Lahj [governorate adjacent to Abyan] – to treat malnourished child IDPs," Mohammed al-Ebbi, director of UNICEF's Aden office, told IRIN. "Severe cases are given Plumpy'nut following proper diagnosis."
This situation is likely to worsen if the government continues to ignore the fate of its people, preferring to spend millions of US dollars on brand new Russian-made combat tanks. Since there is no welfare system in Yemen, the country will have to rely on international aid and its citizens' donations to get by. And if all fails, Yemen will not only resemble Somalia in terms of security but also by its humanitarian crisis.