PM Noda Announces Priorities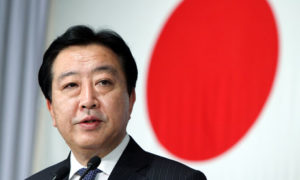 Yoshihiko Noda delivered his first press Friday since becoming Japan's newest prime minister. He announced the four top priorities of his cabinet, which was sworn in Friday.
Noda's top priority is recovery of the disaster-hit areas of the March 11 quake and tsunami. The government aims to pass a third supplementary budget for reconstruction, expected to amount to more than 10 trillion yen ($130 billion). Noda stressed that the government may need to raise taxes in order to pay for reconstruction, but he said the government should reduce wasteful spending and sell off government assets before raising taxes.
Next on his list is to bring the crisis at the Fukushima Dai-ichi nuclear power plant under control. I'm not sure what Noda can do what his predecessor, Naoto Kan, couldn't. Tokyo Electric Power Co. expects the staunching of the radiation leak to take 10 years–10 times longer than the average Japanese prime minister stays in office. Noda mentioned that more nuclear reactors may be brought back online if they are deemed safe, apparently realizing Japan's reliance on nuclear energy.
Noda's third priority was to halt the rising strength of the yen, which is hurting Japanese exports and causing Japanese manufacturers to move overseas. At 76.81 yen to the dollar, the yen is the strongest its been since World War II.
Noda also promised to address Japan's world-record-level public debt, which is 225.8 percent of the country's GDP.
Noda also said he is looking forward to his debut later this month at the U.N. General Assembly session in New York, where he will meet President Barack Obama.
Noda's first two priorities seem to be in response to popular opinion, and his third and fourth priorities are in line with his experience as Japan's finance minister.
Noda also promised Friday that neither he nor his cabinet will visit the controversial Yasukuni Shrine while he is in office. Noda drew fire from China and North and South Korea recently for reiterating his opinion that the class-A war criminals enshrined at Yasukuni are not criminals. His decision to stay away from the shrine, despite his personal beliefs, is both prudent and commendable.