Keeping up with International Affairs – Tweeting or Fleeting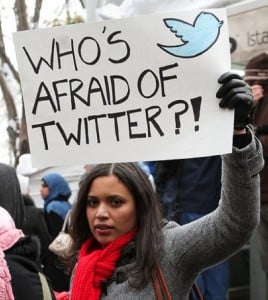 Keeping up with policy and international developments can be exhausting. Do certain tools make it easier or better for you? Do you believe that Twitter, for example, exposes you to different opinions and news that you wouldn't normally read?
Without a doubt, Twitter and other social media outlets have provided intangible assistance to the wave of revolution that is currently sweeping the Arab world, and for that I am very thankful. I had a heated discussion with friends about the impact of Twitter upon our lives last night, though, especially in relation to our ability to improve our arguments and knowledge concerning international affairs. On the other side of the debate, my friends (including my lovely lady) asserted that Twitter is good for exposing you to divergent opinions and breaking news. I'm definitely not a Twitter hater; rather, I wonder if it would adversely affect our productivity and lifestyles. Also, I'm a bit skeptical that it would expose you to alternative perspectives. If you've followed some of my older posts, you'll also know that I'm concerned about the ability to manipulate the masses via social media.
The idea sounds good to me, though, so I think I'll get on board and start the tweeting, twitting, and everything in-between, to test it out. Please let me know what your experience or perspective is on Twitter, especially its role in monitoring international and foreign policy developments. Also, I can now be found on Twitter at https://twitter.com/#!/ali_riazi. Looking forward to it!