Putin Presses Button to Start Nord Stream NatGas Pipeline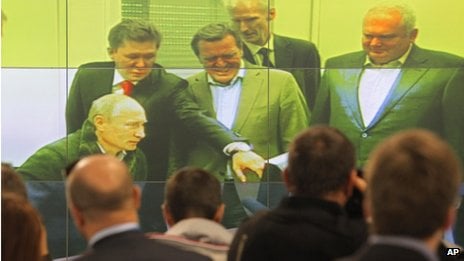 Vladimir Putin was at a ceremony a few days ago at which he pressed the button that began the process of delivering natural gas to Germany through the Nord Stream pipeline. According to Gazprom, Nord Stream is the first direct link between Russia and the European gas transmission system. It runs under the Baltic Sea, from Portovaya Bay (which is near Vyborg) 1,200 kilometres to its terminal near Greifswald in Germany.
Nord Stream is a joint project of Gazprom (51%), BASF/Wintershall (20%), E.ON Ruhrgas (20%) and Gasunie (9%).The first of two gas lines was completed on 3 September, and "technical gas" (needed to build up pressure to start moving the gas through the pipeline) flowed when Putin pressed the button. The transmission capacity of each pipeline will be around 27.5 billion cubic metres. The second line is planned to be put in operation in 2012. Total investment in the offshore pipeline is projected at EUR 7.4 billion.
Strategically, this is what Joe Biden would call a big ****ing deal. At present, 80% of Russia's gas exports to the EU flow through pipelines across Ukrainian soil. Back in March 2005, this lead to a serious dispute, with Moscow accusing Kiev of diverting gas intended for western European customers. On 1 January 2006, Russia halted all gas exports via Ukraine. A deal was reached a few days later, but arguments over the debt lingered.
Nord Stream is one of three pipeline systems under construction that will send natgas from ex-Soviet fields to European consumers. South Stream will run from Beregovaya under the Black Sea to Bulgaria and eventually deliver 63 million cubic metres of gas annual to south and central Europe. Another called Nabucco will start in the Caucasus mountain region and wend its way across Turkey to Bulgaria, Romania, Hungary and Austria providing 31 million cubic metres of gas from the Caspian Sea region.