Huma-(Lu)la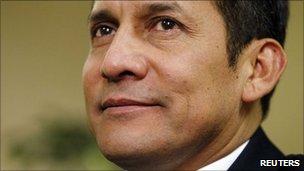 Market analysts and economists can never fully judge the promise of an incoming president, but in Latin America they provide a welcome unbiased gauge for doing so. In the case of Peru, said analysts and economists are confused. The numerical confusion reflects the conflicted vision of President-Elect Ollanta Humala: maintain Peru's revered economic prosperity while improving wealth of the poor masses who live outside the business community.
Numbers tell a part of the story. In the period from January 2, 2008, to May 31, 2011, the Lima Stock Exchange's IGBVL Index grew 24.4%. However, the market reacted to the election of Humala, a former militant populist, by dropping 12.4% on Monday, June 6 (source: CapIQ).
Humala is hoping that his numerical legacy will look like that of the man he claims to emulate: Brazil's former President Luiz Inácio Lula da Silva. Lula's numerical legacy speaks to the dexterity he employed in managing a country of 194 million people. During Lula's time in office (2003-2010), unemployment receded from 11.2% to 5.3%, and real GDP per capita grew at 3.2% each year (source: Brazil Central Bank). The Bolsa Família conditional aid program is credited with lifting millions of families out of poverty. Nevertheless, there is consensus that Humala's vision is a tough balancing act, even though Humala the candidate worked with Lula's advisers to get his mindset right.
The foreign policy question for the United States is how closely to engage a "new left" leader in Peru. Whether or not we believe in his sincerity, or his capacity to manage inherently competing policies, at least Humala has put some bait on the hook. Free-market oriented voters did not hold sway in the election result. As Cynthia McClintock chronicles in Foreign Affairs, the three candidates they most favored – former President Alejandro Toledo, former Lima mayor Luis Castañeda, and former Finance Minister Pedro Pablo Kuczynski – combined for 44% of the vote, but were all eliminated in the first round. Humala's public positions show that free-market prosperity did nonetheless influence the election result.
The United States has ample incentive to reach out to Humala, and reach out soon. Shortly after the election, Humala called the US a "strategic partner," and pledged to work with the US to stem the drug trade. Peru is currently the second largest coca grower in the world. As far as legal imports, Peru is also a major source of raw materials – it is the second largest producer of silver, copper, and zinc, and the sixth largest producer of gold. Some would say that simply extracting these resources and selling them is enough for the overall economy: Peru's poverty rate has fallen 24% since 2001. However, any government wishing to import would be wise to deal with Humala. This requires respect for the man's vision.
Politically, Humala may offer a chance for the US to reverse its waning influence in the Andean region. Ecuador and Venezuela are gripped by leftist populism, and the proposed American free trade pact with Colombia remains under threat from Congressional Democrats. Humala must reach out to his leftist neighbors out of necessity, and he made the symbolic trip to Cuba to see President Raul Castro. He later continued his message of balance to Peruvians and foreigners alike through Cabinet appointments. Free market proponent Luis Miguel Castilla will be Finance Minister, and the respected Julio Velarde will remain Central Bank chief.
Besides strengthening the State Department's hand, American engagement could at least help Humala implement half of his vision. Assisting Peru against both drug crime and Venezuela's populist Chavismo goes hand-in-hand with promoting a free-market Peru. Humala might then be able to complete the picture – Lula's key strength was a strong economy. The market seemed to bet along these lines. 2 months after its post-election drop the IGBVL was up 8.5%, though it took a dive in late September.