MEMO TO ISAF: Running Out of Time to Professionalize Afghan Security Forces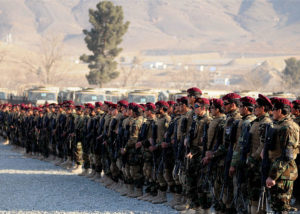 Earlier this week, the U.N. Mission in Afghanistan (UNAMA) published a highly critical report alleging that Afghan security forces have engaged in "systematic torture" in prisons and detention facilities. According to interviews with more than 300 suspects held in these facilities, Afghan security forces engaged in beatings, sexual assault and other acts that might constitute "cruel and unusual punishment."
To his credit, Gen. John Allen, commander of the International Security Assistance Force (ISAF) in Afghanistan, took a number of pro-active steps to address the issue after seeing an early draft of the paper, including halting transfers of suspected insurgents to alleged torture facilities, initiating investigations and putting plans in place to monitor the facilities.
These are steps in the right direction, but UNAMA's report points to a larger problem not being fully addressed – the lack of professionalism and accountability in the Afghan security forces. According to a report released by Oxfam and CIVIC last May, human rights groups have documented numerous reports of alleged violations of human rights and humanitarian law by Afghan security forces, including:
"night raids carried out without adequate precautions to protect civilians, the recruitment and sexual abuse of children, mistreatment during detention, and the killing and abuse of civilians by local police seen by many communities as criminal gangs."
The report further contends that the Afghan National Security Forces are no where near ready to assume responsibility for security and protecting the Afghan people, despite U.S. intentions to hand these functions over to the Afghan government by 2014. According to the report, training for the Afghan National Army (ANA) "has been characterized by a focus on quantity over quality." As a result, the ANA is still heavily dependent on ISAF troops to execute missions. Vetting, training and accountability for police officers, many of which are former militia members, is also inadequate. According to the report, police training is overwhelmingly focused on counter-insurgency and counter-narcotics, and only a small portion is devoted to basic civilian policing functions.
In short, Afghan security forces will not likely be ready to take on their responsibilities by 2014 unless ISAF overhauls and improves efforts to train, professionalize and make the Afghan security forces more accountable. Without improvements, allegations of human rights abuses by the Afghan security forces will surface in greater number, especially as ISAF forces reduce their involvement in counterinsurgency operations.
Reports of Afghan security forces engaging in excessive force, torture and other improper conduct would undermine both human rights and security. Indeed, the stability of the Afghan government will ultimately depend on the capacity of the Afghan security forces to keep the peace, protect the Afghan people and conduct operations consistent with the rule of law. It is critical that ISAF forces act quickly to improve the professionalism and accountability of the Afghan security forces to ensure that the international community leaves a government in place that has both the will and capacity to protect and serve the Afghan people.