Everyone Loves a Russian Nationalist!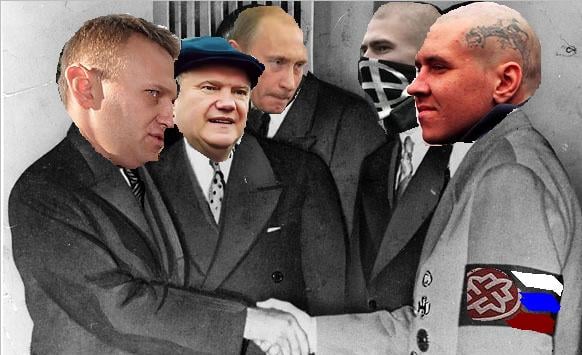 Vladimir Putin deports thousands of Tajiks migrant workers.
The Russian Communist Party puts Stalin on its election posters.
Liberal anti-corruption activist Alexei Navalny becomes the keynote speaker at a massive anti-immigration rally.
What do these three events have in common? They show leaders of all three poles of Russian politics – regime, left, and liberal – pandering to the increasingly dominant nationalist vote.
After his ten years in power, the public may be falling out of love with Vladimir Putin. With two weeks to go until the Duma elections, his ratings have slumped to historic lows and he was even booed on live TV while congratulating Russian boxer Emilianenko's victory over American Jeff Monson.
Anti-government civil society activists like Navalny are becoming household names in the West. But if Putin falls, they will not be the ones picking up the pieces. "The liberal opposition comprises a very small faction of society and…nationalist themes are much more widespread," said Elena Pozdnyakova, an expert at the Center for Political Technologies in Victor Peleschuk's piece for Russia Profile.
A combination of economic hardship and an absence of a positive national identity has led to nationalist becoming a key constituency.
Russia is not alone. In Europe, nationalist and anti-immigrant forces are stepping into the breach left by moderate parties discredited by the financial crisis. But in Russia, there is no one clearly defined right wing party to cater to it. This has led to a situation in which no-one, not even Putin's pro-democracy opponents, is willing to risk their political capital to challenge the radical right's worst policies, such as homophobia and xenophobia.
The dangers of such silence are very grave. For example, at a time when Russia bucks global trends by actually seeing a rise in HIV infections, the government has launched a widely supported attack on harm-reduction practices like methadone treatment in favour of a big fist approach of draconian punishments for users. Simultaneously, laws are being passed effectively banning homosexuality in a country that already has among Europe's worst records of gay rights.
The choice by oppositionists like Navalny to try to co-opt, rather than confront, the right is rational is he want to remain relevant in a deeply socially conservative society. But it also risks hollowing out their entire message. A similar case existed in Zimbabwe, where opposition leader Morgan Tsvangirai joined dictator Robert Mugabe in condemning homosexuality for the same reasons. But even he has now reversed his position and taken on the homophobes.  However, it has also hurt his standing with a population largely hostile to gay rights.
Russia's liberal opposition is stuck in a bind. Hatred for the regime is perhaps the only thing it has in common with many average people, but beyond the unifying issue of corruption, the specific objects of the discontent are very different: political, press and economic freedom v.s. the more popular desire for governmental protection against economic hardship, foreigners, and perceived "racial takeover" from the South. How to amass wider support without sacrificing core values is the opposition's biggest and seemingly impossible challenge.