Fires of Despair in Tibet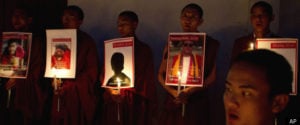 It is roughly 1644 miles between Tibet and Ho Chi Minh City, where 48 years ago Buddhist monks burst into flames in protest against the U.S. backed government. Those actions also burst into the public eye through newspaper photos and television reports, igniting a different kind of flame –a slow flame of questioning and then challenging by Americans about just what was occurring in South Vietnam that was costing so much U.S treasure and lives.
It was Western media coverage of Buddhist monks immolating themselves in protest of the South Vietnamese regime in 1963 that introduced the word "self-immolation" to a wide English-speaking audience and gave it a strong political association that, then, demanded attention and action. And action is what occurred.
Setting one's self on fire still garners attention and outrage today – except, it seems, if it occurs in Tibet. As monks and nun set themselves aflame in Tibet in the same stoic manner against the harsh treatment by the Chinese government, there is little coverage and no action or reaction.
The latest was a Buddhist nun in southwest Sichuan Province who died after setting herself on fire, becoming the 11th Tibetan to embrace flames and immolation to protest the injustices against Tibetan Buddhist institutions and the region's five million ethnic Tibetans. She was at least the sixth to die doing so.
When a nun or a monk lights themselves on fire, and nobody covers it – is it like the tree falling in the woods with no one around? It does happen. Is the world not watching? Or are we not caring? Or perhaps, we are just helpless.
Journalists do not go there, in many cases cannot get there. The entire region seems off the radar or the limits of foreign governments, international organizations, anyone who may be able to have influence.
Such a sharp contrast to the Middle East.
It is almost a year since Mohamed Bouazizi, a Tunisian fruit seller, doused himself with paint thinner and lit a match on Dec. 17. That act triggered street clashes that ultimately toppled the country's autocratic ruler, and inspired others to set themselves on fire in Egypt, Algeria and Mauritania.
If not the shot heard 'round the world, Bouazizi's stroke certainly was the match that lit that part of the world on political fire. Today that flame still burns, in cinders in some places, in white heat others. Governments have fallen in Tunisia, Egypt, Yemen and Libya; they are under stress in Syria and are nervous in Saudi Arabia and Bahrain.
Street vending was illegal in Tunisia but Bouazizi had no other options to earn a living. He went into debt to purchase his goods for sale, but officials would regularly seize his peddler's wheelbarrow. It was a downward spiral and when he went in desperation to plead his case with the governor, he was thrown out.
No one would listen to him, so he acted. Only after he set himself on fire did people listen and respond.
Desperation drove him to act – the same desperation that the monks and nuns in Tibet have felt for at least 1,600 years.
The death of the latest nun, Qiu Xiang, 35, was reported by Xinhua, the official news agency, and confirmed by exile groups, who gave her Tibetan name as Palden Choetso. Like two previous cases, the most recent suicide took place in Ganzi Prefecture, known as Kardze in Tibetan, which is the site of several important Buddhist monasteries that have been under especially tight restrictions in recent months. One week earlier, a Tibetan monk, Dawa Tsering, set himself on fire during a religious ceremony at a monastery there.
Kate Saunders of the International Campaign for Tibet said, in various media accounts, Palden Choetso made a plea for religious freedom and the return of the Dalai Lama, the exiled spiritual leader, as her robes went up in flames. The area has now been locked down and troops have been sent into the nunnery.
The atmosphere in Kardze has been tense since demonstrations against Chinese policies broke out in June. Scores of monks and nuns have been detained, among them three women who were said to have been given three-year prison terms for their role in a June demonstration.
The ruling Communist Party tries to portray the self-immolations as a form of terrorism inspired by the Dalai Lama, who has lived in India since fleeing Tibet during a failed uprising against Chinese rule in 1959.
A laughable statement at best. Violence against one's self is prohibited by most interpretations of Buddhist doctrine. Unlike suicide attacks, self-immolations are not intended to inflict physical harm or material damage. They can be seen as a type of altruistic suicide for the collective cause.
Self-immolations are often public, dramatic, political, and thus newsworthy – notably in Saigon in protest of the discriminatory treatment endured by Buddhists under the Roman Catholic administration of President Ngô Đình Diệm in South Vietnam.
Media reports cite almost 100 self-immolations between 1963 and 1971. Most of these suicides occurred in the United States protesting the Vietnam War and Asia. In 1968 the practice spread to the Soviet bloc with self-immolation of Czech student Jan Palach. The Arab Spring has produced at least 14 recorded incidents.
Yet who speaks of and for, and acts on behalf of, those who have died in flames in Tibet? Other than some fading "Free Tibet" bumper stickers on the rear of autos in Washington, D.C., London, and elsewhere, it seems no one.