Caucasus Year in Review Part I: Georgia and Armenia
Georgia
2011 was the year when former Parliament Speaker Nino Burjanadze put the finishing touches on her long campaign to discredit former Parliament Speaker Nino Burjanadze.
Ms. Burjanadze began her re-branding effort from responsible, clear-headed opposition leader to uncompromising radical after forming her own political party in 2008. The disastrous Russo-Georgian War in the same year fueled her embrace of confrontational rhetoric and what appeared to be acquiescence to occasional violent tactics by her allies at demonstrations.
The arrest of a number of her inner circle on weapons charges in 2009, which Burjanadze referred to as a government "campaign of terror" against her was a blow to her image, as were her visits to Moscow last year in attempt to look statesmanlike.
2011 was probably the final chapter for Burjanadze in her role as opposition leader. Beginning early this year, she called for another round in an endless series of demonstrations against President Saakashvili, whom she has begun to refer to as "a dictator" and a leader who is "terrorizing the people."
Thus like Armenia (and to a lesser extent, Azerbaijan), Georgia experienced a number of demonstrations in the spring. But the character of the rallies in Georgia was of an altogether different nature, consisting of a hodgepodge of fringe political groups hankering for a fight, which is precisely what they got.
The tragedy at the tail end of the rallies was the random death of two men—a policeman and a bystander—on the evening of 26 May, when they were run down by someone in Burjanadze's motorcade as it sped away, east on Rustavelli Avenue, at the conclusion of a violent demonstration.
The arrest and conviction of Burjandze's husband Badri Bitsadze on charges stemming from the violent demonstrations that month probably closes the book on Nino's political future. Badri, who went into hiding, was convicted in absentia, and his last reported whereabouts were Vienna, where he was spotted by journalists in September.
With Nino excluded as a major political actor, there are now two or three figures poised to lead any unified opposition that may eventually emerge. One is Levan Gachechiladze, who was trounced by President Saakashvili in the special presidential election in 2008. A more serious contender is former Georgian ambassador to the United Nations Irakli Alasania, although he too was easily brushed aside when he ran for mayor of Tbilsi in 2010.
That leaves us with Bidzina Ivanishvili, the "reclusive" (which seems to be the operative term for Ivanishvili these days) billionaire who in November announced his plans to enter politics.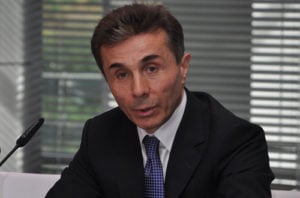 Ivanishvili will be the man to watch in Georgia's near-term future. Stripped of his (lapsed) Georgian citizenship by the authorities due to his dual Russian-French nationality, Ivanishvili has said that he intends to renounce his dual citizenship and appeal to the president. (That's a mildly ironic tactic, since Ivanishvili is reported to have blamed Saakashvili for starting the 2008 war with Russia.)
Saakashvili's allies have attacked Ivanishvili as a tool of Moscow, where he made his fortune, and the police have not at all coincidentally launched a money laundering investigation of the Cartu Bank, owned by Ivanishvili.
His new political movement, still in incubation, is called "Georgian Dream," which he will use to spearhead his effort to wrest power from the ruling party in the 2012 parliamentary elections.
Ivanishvili's platform is still a little unclear beyond the ritual denunciations of the president, of whom he said, "In my view, reality today is such that even his own mother would not vote for Saakashvili."
His personal web site is here.
Armenia
The biggest story for Armenia was probably the rallies in February through April staged by the Armenian National Congress (HAK) and its leader, former president Levon Ter-Petrossian (often referred to in shorthand as "LTP").
The demonstrations were designed to force a number of concessions from the government, including the release of detainees held since Armenia's 2008 civil unrest, the resignation of President Sargsyan, and early elections. The rhetoric borrowed, somewhat superficially, from the Arab Spring template, with LTP speaking of a "Mubarakization" process underway in Armenia.
The rallies never attracted more than 30,000 or so participants, although HAK claimed a turnout of 50,000 at one demonstration in early March.
As of early April, Ter-Petrossian had climbed down somewhat, telling supporters at a rally that he was now demanding merely that President Sargsyan free all "political prisoners," agree to an inquiry into the 2008 political unrest, and guarantee access to Freedom Square in downtown Yerevan for further demonstrations.
By May, the government had released many HAK supporters who had languished in prison since the violence of 2008, and agreed to establishing the commission that Ter-Petrossian had demanded. While these were two key premises behind the rallies, it was clear then—and after the more recent demonstrations in October—that the president would not resign and that new elections were not in the offing.
To many observers, the rallies constituted a trial balloon for LTP's efforts to retool himself and become a political force once again. I would tend to agree, and in my view this strategy has failed.
Ter-Petrossian has intimated recently that he hasn't abandoned the cycle of demonstrations, but some observers believe that his day in the sun is over. Intriguingly, a Wikileaks cable released this year cast the former president in a rather unflattering light.
The cable, written in late 2008 and released this year, details a wide-ranging conversation in Yerevan between LTP and then-US ambassador Marie Yovanovitch, and reveals a sometimes exasperated Yovanovitch expressing her astonishment at charges Ter-Petrossian had leveled against the United States at a rally two weeks earlier:
"[The ambassador] took strong exception…to LTP's
October 17 speech in which he had argued in the most
provocative terms the exact opposite of what he was now
saying to the Ambassador privately, and had called the
United States "doubly immoral" for allegedly taking unfair
advantage of Serzh Sargsian,s supposed political weakness
to push for a deal counter to Armenia's national interests."
Defending himself, Ter-Petrosian told the ambassador that his polarizing comments were meant only to placate his more radical cadres:
"…LTP assured the Ambassador that his rhetoric was meant only
to mollify the radical elements in his opposition movement — to
provide them with a viable explanation for his decision to suspend
protest activities.
"LTP said he "had no other way to get people off the streets
and back in their homes."
But Yovanovitch wasn't quite buying it:
"The Ambassador replied that the problem with such
rhetoric — even if it is meant to satisfy LTP's constituents —
is that the U.S. has no way of knowing what LTP truly thinks, and
that painting the United States in an immoral light on resolving NK
is intellectually dishonest no matter the motive."
The cable then summed up with a cold, hard look at Ter-Petrossian's tactics:
"LTP saw support for public rallies dwindling with each passing month,
and was desperate to find a face-saving tactic. Empty-handed after
months of a stridently rejectionist strategy, LTP chose to cloak himself
in nationalism and concoct a conspiracy theory of great power
machinations to cover his political retreat."
Ter-Petrossian isn't exactly President Sargsyan's biggest worry, because it looks like Robert Kocharian, Sargyan's former ally, is maneuvering for a comeback. And Sargsyan is taking the threat seriously.
The dominant theory explaining the recent sackings and resignations of key government personnel, including the mayor of Yerevan, is that the president is engaging in a pre-emptive move to weaken Kocharian's power base. That may be true, but I'll leave you with the waggish analysis of Kocharian and Sargsyan from the New Times party leader, who last month dismissed the notion that there is any substantive difference between the two men:
"They are Siamese twins," he said.