News Roundup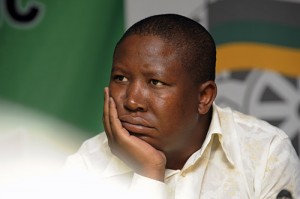 Here are a few stories that I've been thinking about in recent days:
A new report from the Africa Center for Strategic Studies (ACSS), Africa and the Arab Spring: A New Era of Democratic Expectations, the first volume of the Africa Center's new Special Report series, uses the Arab Spring as a lens through which to view African politics. I think it is a bit too overdetermined to look at the Arab Spring and to look at ongoing crises in African politics and think that the one will fuel changes in the other. But the report is soundly done and certainly raises a number of important ideas and questions.
Deposed African National Congress Youth League leader Julius Malema believes he is finished in South African political life and plans to become a cattle farmer. Just remember, a phoenix has to fall before he can rise again. Don't for one minute think that Malema's turn in public life is complete.
Gbenga Sesan, the executive director of Paradigm Initiative Nigeria, has written a public letter to Nigerian President Goodluck Jonathan. In it he asks some pretty pointed questions, including this one: "If the president can throw his wife a party in Australia and senators earn millions of dollars a year, why does the president keep asking us, the people, to make sacrifices?"
Recent revelations of obesity in South Africa raise the question: "Has Freedom Made Us Fat?" My guess would be that affluence more than freedom is the source of obesity in the richest country on the continent. Yes, tens of millions of South Africans do not share in the country's wealth, but the country's middle classes are doing quite well, and there has always been a link between weight and wealth on a continent where the former can actually serve as a status symbol indicating the latter.
According to Jeffrey Gettleman of The New York Times, "…the African Union force in Somalia has hardened into a war-fighting machine — and it seems to be winning the war." Progress has clearly been excruciatingly slow but these advances coupled with more aggressive action from Kenyan troops reveals that the region's leaders are not resigned to Somalia being a failed state forever.
I am late in getting my Year in Review post up for 2011, but for the time being, here is the Mail & Guardian's slideshow of South Africa's most memorable moments of the year.