War Crimes 2011 Year In Review – Europe & The Americas
This is the first in a 3-part year in review series on war crimes around the world in 2011.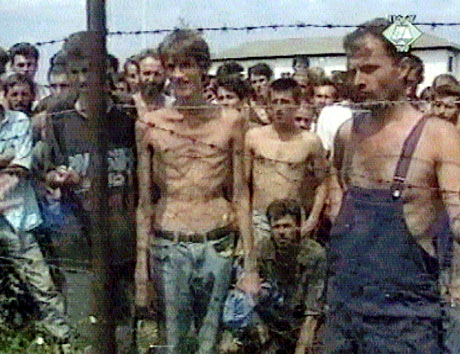 Ratko Mladic – Europe's Most Wanted War Criminal
In early April Bosiljka Mladic, Ratko Mladic's wife told the media that her husband was dead. Less than two months later he was arrested in Lazarevo in northern Serbia, ending a 16 year manhunt bringing Europe's most wanted war criminal to trial. Mladic was the military commander responsible for the Srebrenica massacre in 1995 where 8,000 Bosnian Muslims were killed, and oversaw the years long siege of Sarajevo in which 10,000 civilians were killed. Mladic is currently on trial at the International Criminal Tribunal for Yugoslavia in The Hague. The number of charges against Mladic was reduced from 196 to 106 this month in order to expedite justice in light of Mladic's deteriorating physical condition.
Goran Hadzic – The Last Of The Big Three Falls
Goran Hadzic was also captured in northern Serbia this summer where he was rumored to have had sanctuary in an Orthodox monastery. Hadzic was president of the self-proclaimed Serbian Republic of Krajina, located in Croatia mostly along the border with Bosnia and Herzegovina, from 1992-93. He was a political leader of the Serbian rebellion in Croatia beginning in 1991 that lead to the creation of Krajina. Hadzic was indicted by the ICTY for 14 counts of crimes against humanity and war crimes. Hadzic is allegedly responsible for ethnic pogroms in Zagreb and the notorious Ovcara massacre where 250 hospital patients were rounded up from a hospital in Vukovar and mass executed at a local pig farm.  Hadzic was the last of the three war criminals (along with Radovan Karadzic and Ratko Mladic) that the E.U. demanded be brought to justice before considering Serbian assention to the Union.
Radovan Karadzic – Building A Case Against Himself
Radovan Karadzic's trial continued this year as the Bosnian Serb president got the chance to directly address witnesses against him. Karadzic, the political mastermind of the Srebrenica massacre, seemed to implicate bizarre alternative hypotheses concerning events he is being held responsible for – that at the Keraterm concentration camp instead of the hundreds reported to have been massacred, it was only one mentally deranged person that was killed presumably in self-defence; and that the emaciated Fikret Alic pictured in the iconic photograph from Keraterm was just a very skinny man. Karadzic's former Chief of Crisis Staff, Milan Tupajic was arrested this month and charged with contempt of court for refusing to testify against his former boss.
Fatmir Limaj – A Second Chance For Justice
Kosovar MP Fatmir Limaj was arrested following charges by the European Union Rule of Law Mission in Kosovo that he was responsible for torture and execution of civilians in the Kleçkë detention camp, and took part in a human organs trafficking ring. He was initially released invoking immunity granted to Kosovar MPs, but a ruling by the Constitutional Court in Kosovo held that the immunity did not extend to acts taken outside of the scope of their official responsibilities and was subsequently placed under house arrest. A previously unnamed key witness against him, Agim Zogaj, was found dead in protective custody in Germany a week after the Constitutional Court's decision. Zogaj's death was ruled a suicide. Limaj was acquitted of war crimes charges in 1995 at the ICTY in The Hague.
Elderly Nazis – It's Never Too Late To End Impunity
Former Nazis John Demjanjuk and Heinrich Boere were convicted in Germany for Holocaust related crimes. Demjanjuk served as a prison guard at Sorbibor the Polish concentration camp where 29,000 people were murdered. Heinrich Boere was a part of an assassination squad that murdered Dutch resistance figures.
Venezuelan Terrorist Praises Gadhafi At Sentencing Hearing
Carlos 'The Jackal' Sanchez was sentenced to a second life sentence in France for bombings there in the early eighties which killed 11. Sanchez has been serving a previous life sentence since 1997, and claims to be responsible for the deaths of 2,000 people in various terrorist attacks throughout the world. Sanchez offered praise of deceased Libyan leader Moammar Gadhafi at his sentencing. Gadhafi sponsored much of Sanchez's terrorist efforts.
Former U.S. President Under Increasing International Pressure
Former U.S. President George W. Bush canceled a visit to Switzerland amidst threats of legal action possibly being taken against him for violating the Geneva Conventions by condoning the use of torture by the U.S. military in its 'War on Terror'. He and Former British Prime Minister Tony Blair were convicted in abenstia for the war crime of aggression at the symbolic Kuala Lumpur War Crimes Tribunal in Malaysia in November for the 2003 invasion of Iraq. The tribunal has no enforcement power and the U.S. has not ratified the Rome Statute defining the crime of aggression as a war crime. The Rome Statute went into effect in 2002, and the U.K. ratified the Statute in 2001.
Zelaya Ouster 'A Coup' – H.T.R.C.
The Honduras Truth and Reconciliation Commission ruled that the 2009 ousting of president Manuel Zelaya was an illegal coup. The Commission was established under the auspices of the Organization of American States. Mr. Zelaya returned in May to Honduras from exile in Costa Rica. He is expected to run for president again in 2013.
Next up: War Crimes Year in Review – Asia & Oceania