The 'G' word and Turkey's Caucasus policy (interview)
Dear FPA Blogs followers,
Azeri APA News Agency recently conducted an interview with me regarding the French National Assembly's decision to criminalize the refusal to refer to the events of 1909-15 as a genocide and how this affects Turkey's Caucasus policy. This is the transcript of that interview: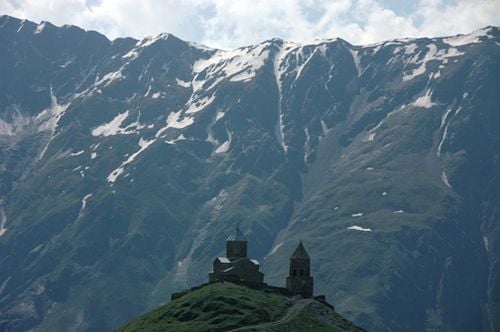 ————————-
http://en.apa.az/news.php?id=163076
New York. Isabel Levine – APA. APA's interview with Mr. H. Akin Unver, Turkey and Middle Eastern analyst at the Princeton University, New Jersey
– What are your views on Armenia's negative insistence on international community as the French National Assembly recently passed the bill penalizing denial of the so-called genocides recognized by the law? 
– Events of 1909-15 are a part of Armenian national identity and it is perhaps the only issue that binds the international Armenian Diaspora together, without which, the Diaspora will most probably fall apart. Therefore, the Diaspora's insistence on the genocide question is linked to its raison d'être – from their
point of view, this indeed, is a victory. On the part of the French National Assembly, on the other hand, I think, this is a failure.
Whether one believes the events of 1909-15 are genocide or not, French National Assembly's view on the matter extends way beyond legislating on another country's history, and infringes upon the Copenhagen political criteria for European Union membership, as well as the Article 11 of the Charter of Fundamental Rights of the European Union as it relates to freedom of expression.
To that end, I don't think any observer or scholar would associate French National Assembly's move as a matter of principle or retrospective legislation on human rights; it is a simple pre-electoral and populist legislation, which is passed by less than 10% of the French National Assembly and therefore, does not represent 90% of the French people. More worrisome perhaps, is that the legislation tramples the founding principles of the European Union and is an inherently undemocratic (and even anti-democratic) move.
– What are the prospects of the Armenian-Turkish reconciliation in conditions when the Armenian lobby does not disavow the global campaign for recognition of 'Armenian genocide' by parliaments, as well as by the US Congress? 
– This dilemma was addressed many times between Turkish and Armenian governments; Turkey has been complaining about the Diaspora drawing a wedge between Turkish and Armenian governments, whereas Armenia sees the Diaspora a natural extension of the Armenian consciousness. In return, the Diaspora will not accept any settlement with Turkey that marginalizes the Diaspora's influence.
I believe the Diaspora's permanent role in this issue is to assert its weight and influence over the negotiations by using its financial capabilities and large amounts of money sent to Armenia from abroad, which surpasses the Armenian national budget. Armenia is dependent on Diaspora money and therefore, cannot sign bilateral agreements with Turkey regarding the genocide question without the consent of the Diaspora.
I do not believe that the radicalized segments of the Diaspora will give up the genocide issue, nor will it simply disappear from the Turkish-Armenian equation. The only way we can talk about a Turkish-Armenian reconciliation without the influence of the Diaspora is that either Turkey accepts genocide allegations and pay large amounts of compensation (and possibly land transfers) in a protracted legal process, or if Turkey creates an immediate need for the Republic of Armenia (either through trade revenues that exceed Diaspora money, or via a military-strategic necessity) which will create an urge for the Armenian decision-makers to sideline the Diaspora and deal directly with Turkey. Both of these options are quite unlikely at this time, though.
– What should the US do in that case – stand aside (of the reconciliation process) or continue participating in the processes? 
– Even though the US House of Representatives Foreign Affairs Committee passed a non-binding resolution on the genocide issue in March 2010, I think this is the furthest it can get in any American institution as long as Turkey remains a key ally in post-war Iraq and growing Iranian and Russian influence.
While the administration may issue statements calling for Turkey to recognize the genocide allegations, it will refrain from doing anything binding. Even though Turkey and Armenia had signed reconciliation protocols in October 2009, there is very little move towards honoring its principles as Turkey moves closer to Azerbaijan for the future of the Nabucco pipeline deal.
I believe the future of Nabucco is closely linked to the future of Turkish-Armenian reconciliation. As long as Turkish-Azeri relations remain close and energy
politics remain the most important issue in Turkey's Caucasus policy, I believe the United States will support Turkey's position with regard to Armenia.
Although US Vice-President Joe Biden had suggested Turkey to 'pursue its protocol with Armenia' during his recent visit, Armenia is not a priority either for Turkey or the United States at this moment.
– And how will the French National Assembly's "genocide" bill affect to the Nagorno-Karabakh adjustment process? 
– Most visibly, it will push Turkey towards Azerbaijan and will cause the collapse of the Turkish-Armenian protocols. This is important, as the US leave Iraq, and leaves a massive power vacuum in the Middle East and Russia, Iran and Turkey move in to fill that gap; a conflict is now more likely. There is a possibility that Azerbaijan, benefiting from successive securitizing moves in the region, may engage in a quick military move against Karabakh.
Russia certainly prepares for this possibility. When Russia extended its use of Armenia's Gumru base, it also signed an agreement to protect Armenia against external attacks. Russia is concerned with the size of its military presence in Armenia because of Georgia's annulment of the treaty that enabled Russian troops to use Georgian territory to be transferred further south. The necessity to bolster Russian military presence in Armenia may lead Russia to force its way through Georgia, or rely solely on Azerbaijan for the transfer of its troops to Armenia. This draws a strategic wedge between Russia and Armenia, and renders Russia's commitment to protect Armenia uncertain. Meanwhile, Russia also needs to guarantee its use of the Gabala radar installation in Azerbaijan whose lease ends in 2012. Azerbaijan raised the cost of the installation from 7 million to 100 million US dollars per annum, while hinting at the possibility of negotiating the cost in exchange for Russian support for its position over Karabakh.
In this scenario, Azerbaijan suddenly finds itself in a very advantageous position strategically, having both Turkish and Russian support over the Karabakh question. Sarkozy and the Armenian Diaspora in France put Armenia in an extremely difficult situation over Karabakh; I am not sure they realize this.
– Turkey has already agreed to host radar for the early warning missile defence system being created by the United States and NATO. Do you think the French Parliament's decision will influence Turkey's activity as a NATO member, its place and importance in the region? 
– The bill already started to affect Turkey's relations with France. Turkey's Prime Minister Recep Tayyip Erdoğan announced an eight-point sanctions list against France and unilaterally cancelled all military cooperation agreements, including joint training, intelligence sharing and air space – territorial waters restrictions. Furthermore, Turkey declared that it would stop cooperating with France in all European Union projects (which essentially affects Turkey's relations with the EU fundamentally). In many ways, Turkey's EU policy is changing to an understanding similar to that of China, which considers the European Union as an ineffectual political entity and instead deal with the European countries individually.
In that regard, I think the NATO missile shield has more to do with Turkey's commitment to its alliance with the United States and also its concern with growing Russian and Iranian influence in the region. Even though Turkey has cordial relations with both countries, Turkish decision-makers understand that they need concrete balancing power against Russia and Iran and I think missile shield must be interpreted within the context of Turkey's own security concerns. Of course, Turkey's NATO commitments will remain, but Turkish-French cooperation within NATO will freeze in the short- to medium-term.