Climate and Clean Air Coalition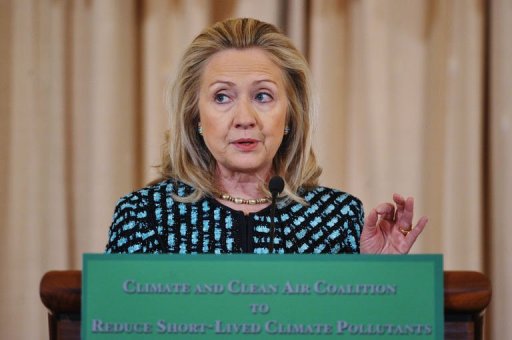 What could prove to be a critical component in the effort to successfully confront the climate crisis was launched today by Hillary Clinton at the State Department in Washington.  Secretary Clinton announced the formation of the "Climate and Clean Air Coalition to Reduce Short-Lived Climate Pollutants."  What are these short-lived climate pollutants?  Methane, black carbon and hydrofluorocarbons (HFCs).  I've written a few times here about the effort to bring the critical importance of these pollutants into sharper focus.
One of the leading scientists in this effort, Dr. Drew Shindell at NASA's Goddard Institute for Space Studies, has done groundbreaking work in highlighting the climate forcing of both black carbon and of methane.  An even more prominent scientist, Dr. Mario Molina, a Nobel laureate for his work on identifying the influence of chlorofluorocarbons and other ozone-depleting chemicals (ODCs) on the stratospheric ozone layer, which led directly to the successful international conventions to phase these ODCs out of production and use, has been working in recent years on the fluorinated gases, or F-gases.  HFCs are F-gases.  Another leader in the campaign to address these short-lived climate pollutants is Durwood Zaelke, President of the Institute for Governance and Sustainable Development (IGSD).  A release today from the IGSD describes the importance of this work, and also includes an op-ed from Molina and Zaelke.
Achim Steiner, Executive Director of the UN Environment Program, was at the launch today too.  In his remarks, he said "…that swift action on the multiple sources of black carbon, HFCs, and methane can deliver extraordinary benefits in terms of public health, food security and near term climate protection."  Nature News covered the story noting that this new effort targets "'short-lived climate forcers' in order to minimize global warming's immediate impacts and buy time on the most troublesome greenhouse gas, carbon dioxide."  The Coalition is not in business, the speakers at the launch made plain, to avoid responsibility for dealing with the heart of the problem:  carbon loading to the atmosphere from fossil fuel combustion and the pernicious impacts of land-use changes and pollution from deforestation and many of our industrial farming practices.
What to do?  Provide better cookstoves for the developing world is one thing.  Manage our waste much more efficiently, to minimize black carbon and methane production, is another.  Phasing out HFCs is still another, along with capturing and destroying ODCs.  For more on these strategies and others, see the IGSD's web pages for its Fast-Action Climate Mitigation Campaign.
Here's a transcript of the remarks from Secretary Clinton, EPA Administrator Lisa Jackson, Achim Steiner and others from today, and a video of the event.