The NATO Moment of Truth Faces the Arab League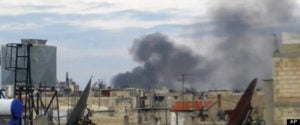 It took NATO 46 years and eight months before it intervened with military force to protect innocent civilians from harm and manage a conflict on its periphery. Can we truly expect the Arab League to move any quicker in dealing with problems in its neighborhood? Probably not.
When NATO finally heeded the call from those on the ground in Bosnia who knew – KNEW – that a strong military involvement would subdue the bullies that were killing and pillaging, and that the four year war would quickly came to a tentative end? That was December 1995 and, as a semblance of peace crept back into Sarajevo, the lights came on again in time for New Year's and what was left of the city's vaunted symphony played a concert. Bullets were fired into the air in the spirit of celebration, not murder.
Why did it take so long, many asked? Why did so many have to die and suffer before clear, forceful action was taken?
Good questions that were never answered. And the same good questions can be asked about the Arab League and Syria. How – when — will it take care of a horrible problem in its neighborhood? Will there be four years of war in Syria, like in Bosnia? Or almost a half-century of NATO-like inaction?
Since its successful Bosnia expeditionary force, NATO has bombed the Serbs as part of the war in Kosovo, gone into Afghanistan with the help of other nations, and guided the conclusion of the civil war in Libya. All were Muslim nations, like Bosnia, with the goal of helping Muslims.
While NATO acted under a United Nations mandate to protect civilians in Libya and had also received active support from the United Arab Emirates, Qatar, Jordan and Morocco, neither condition has been fulfilled in Syria. Even if both conditions were met, NATO Secretary-General Anders Fogh Rasmussen said the alliance had no intention of intervening in Syria and even rejected the possibility of providing logistical support for proposed "humanitarian corridors" to bring relief to towns and cities bearing the brunt of the attacks.
Instead, he urged Middle East countries to find a way to end the bloody, ripping violence. So Arab League, it is up to you now. Much like Bosnia was the defining moment for NATO, Syria is the moment of truth for the Arab League. Yet at this crucial moment, the League is harshly divided.
Leading the charge against Assad are Saudi Arabia and Qatar, Sunni Muslim-ruled nations that see his close ties to Iran's Shiite Muslim theocracy as dangerous. Joining these two nations are transitional countries, like Egypt and Tunisia, who eager to burnish their new pseudo-democracies and again stake their legitimacy in the Arab world after forcing out their tyrants, and Libya, still in chaos from last year's ousting of Moammar Gadhafi, but the first country in the world to recognize the Syrian National Council, the main opposition coalition, as Syria's legitimate authority.
These states are likely to be part of a newly created "Friends of Syria Group," billed as an important counterweight to the vetoes from Russia and China.
On the other side, Assad's government says it will hold a nationwide referendum on February 26 on a new constitution geared to give some cover to Arab nations like Algeria, Jordan, Lebanon and Iraq. The gambit is to show that Assad is serious about reform; that will allow them to buck calls to support an armed opposition movement.
After its failed, now-hollow observer mission, the Arab League needs something to show its legitimacy and leadership in this crisis in the center of its neighborhood. The decision: turn to the United Nations for help to create a joint U.N.-Arab peacekeeping mission, an idea slapped away by Assad and most likely impractical tactically since no one knows who would send troops.
Syria's army is of course out of the question. They, along with forces from Egypt, the United Arab Emirates, Jordan, and Morocco, are the only ones with real experience in international peacekeeping operations. The Egyptian army is busy at home, Jordan has no stomach for getting involved in a fight next door, the U.A.E. troops are with the NATO force in Afghanistan, and Morocco's trained forces are part of the U.N. peacekeeping mission in Kosovo.
Thus, we seem to be at a dead end – literally and figuratively. Much like Bosnia – from the shelling of civilians in cities, to the death of journalists, to blood flowing in greater quantities every day – the strong action needed to force an end to the conflict is being avoided because of politics. Deaths will continue to rise, misery will mount and political paucity will take center stage.
NATO was shamed into realizing that only a determined, focused effort could save lives and this would require the grownup deed of groundbreaking action. The message remains the same, no matter the language spoken or who is talking. History is ready to judge again.