Childhood Before Marriage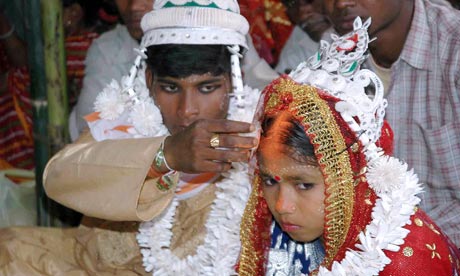 For millions of little girls across the world, childhood is brief.  It is estimated that 10 million girls a year worldwide, the majority in sub-Saharan Africa and South Asia, are married under the age of 18, some as young as seven or eight.  According to UNICEF, more than 40% of the world's child marriages occur in India. There are some 60 million children who have been forced to enter into marriage and the numbers will only continue to rise if gender inequality is not made a global priority.
This year, the fight against child marriage was made a priority by 'The Elders', a coalition of prominent retired statesmen that includes Nobel Peace Prize winners and former heads of state, who launched a campaign against the practice. Their effort, Girls Not Brides, was formally launched at the 2011 Clinton Global Initiative meeting in New York and has now gained the support and backing of many other global foundations.
One major front of this battle is India. According to The State of the World's Children 2012 Report released by UNICEF last Wednesday, 22% of women between 20 and 24 in India gave birth to a child before they turned 18. Furthermore, 45 out of every 1,000 babies are born to mothers between the ages of 15-19 years old. The report's shocking statistics also showed that 57% of male adolescents (15-19 years old) and 53% of female adolescents thought a husband was justified in beating up their wives under certain circumstances.
In India, Parliament passed the Child Marriage Restraint Act in 1978, setting the minimum age for women to get married as 18 and 21 for men. Despite the law, child marriage continues, especially in populous northern states such as Rajasthan, Madhya Pradesh, Uttar Pradesh, Bihar, and West Bengal.  In May last year I wrote a two part series, Looking Deeper into Child Marriage, which discussed the some 25,000 child marriages that occur everyday.  In Part 1, I focused on the problem of child marriage in India, with a special focus on Rajasthan, where 15% of girls are under ten when they are married (see part 2 for more in-depth  coverage).  A year later, the country still struggles with child marriage, but those working to end the harmful and abusive practice have gained more allies.
Archbishop Desmond Tutu, a Nobel Peace Prize laureate and chairman of The Elders, is spearheading the Girls Not Brides alliance. Last month he took the the alliance to India to help launch a regional initiative in New Deli.  The initiative is backed by dozens of South Asian charities, and seeks to persuade governments and community leaders across Asia to help reduce high rates of child marriage.  Child marriage and other forms of discrimination against women are holding back development in India, where nearly half of women between the ages of 20 and 24 were married before the legal age of 18.  "It's been shown that where child marriage is in vogue, 6 of the 8 Millennium Development Goals, you can forget about," said Archbishop Desmond Tutu (Reuters).
The fight against child marriage in India has also been at the forefront of UNICEF's efforts. Last month they  joined with girls' groups and the regional Indian Tea Association to reverse gender discrimination, including a push to deter early marriage and sexual abuse of children.
But it is not just big agencies and global leaders that are needed to bring an end to child marriage in India, it is the entire community and it begins from the ground up.  Thankfully, Anjali Burman, a 21-year-old young woman in the remote Indian village of Malda, has taken up the fight against child marriage by forming a small community group that works to prevent the forced marriages of girls under the age of 18.  Burman herself had faced the cruel prospect of marriage at the age of 15 and now helps other girls by raising awareness on the harmful effects of the practice and bringing cases to officials to stop child marriages from taking place (The Indian Express).
While increased efforts and awareness by the Elders and other international aid groups are a welcome addition to the the fight, gender discrimination must be put on the forefront of the agenda in order to see an end to the cycle of abuse and poverty that fuels child marriages.  States must ensure that individual communities are adequately educated on the long-term effects of child marriage gender discrimination, and see that sustainable solutions are then put in place. Such solutions include, making education a priority and ensuring that girls have equal access, seeing that families have alternative ways to pay debts (so that girls are not used as an viable option), and providing health education on HIV/AIDS and other diseases.
Please see previous posts for more on Child Marriage including: Cracking down on child marriage in India, Report on child marriage highlights need for global action, Add your name to the fight against child marriage, Monetary Incentive to End Child Marriage in Indian State is Successful, Report on child marriage highlights need for global action, Looking deeper into child marriage Part 1, and Looking deeper into child marriage part 2.