Russia's Opposition Got What It Deserved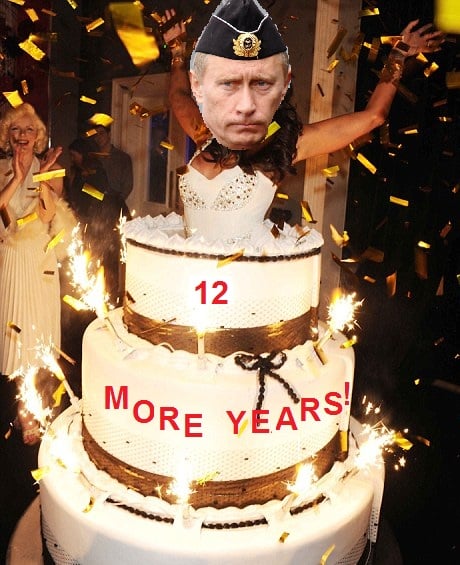 Hardly anyone likes Putin anymore, but he still won the election in a landslide, and is celebrating in style. How is that possible?
Of course, it helped to be the only candidate allowed TV airtime, and a hefty (unlimited) government budget for high-stakes propaganda (including some apocalyptic ads depicting Russia descending into WWII style suffering if Putin didn't get re-elected. Also, excluding major opposition figures from running was a prudent idea. And it certainly didn't harm to have a few thousand busloads of people paid to whimsically cast ballot after ballot at different polling stations, in what has become known as "carousel voting".
However, none of that made much difference to his overall score.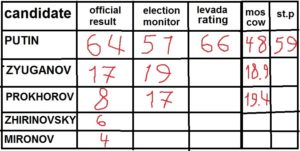 Sure, ballot stuffing helped Putin avoid embarrassment in Moscow, among whose wealthy, upwardly mobile and restless population he barely managed to eke out 50%, if the unofficial observer figures are to be believed. But Moscow is not Russia. It's like casting doubt on Bush's victory by pointing out how badly he did in Massachusetts.
No, acording to the Levada Centre, Russia's foremost independent social research firm, the real reason Putin won was the lack of any reasonable alternative. And for that, the opposition has only itself to blame.
Its crimes: elitism, complacency, tone-deafness and wishful thinking. Oh, and did I mention elitism?
Masha Gessen, an otherwise astute commentator on Russian affairs, is the perfect illustration of what's wrong with Russia's "protest movement".
"The only problem with the "middle-class revolution" image is that it is dead wrong", she writes.
But yet it's not. The protests are confined to Russia's two wealthiest cities. They are a strong internet presence at a time when most people in Russia remain offline. They involve people significantly younger and better educated than the average, people concerned with democracy – an issue that fewer than 5% of Russians see as the biggest threat facing the country (inflation, lack of social services, and unemployment were the top 3). All of this explains their low numbers.
The real reason, however, for the alienation of the protesters from the bulk of ordinary Russian voters (many of whom share the protesters' frustration with Putin's authoritarianism and Russia's corruption) is cultural.
For a start, many senior opposition figures have a barely disguised disdain for their average countrymen. Here is what the famous liberal opposition leader Boris Nemtsov told the press yesterday about his experiences as a poll observer in a wealthy Moscow neighbourhood: "Я живу на Ордынке, и тут эти гопники толпами носятся, а по улицам ездят машины с ОМОНом. Вы видели хоть одну страну, в которой честно победивший глава государства окружает себя военными и ликующей массовкой из провинции?"/ "I live in Ordinka, and I saw all these 'gopniks' running around here, while riot police cars lined the streets. Have you seen a single country where a fairly-elected leader surrounds himself with soldiers and an ecstatic mob from the provinces?"
The key word here is "gopnik", a derogatory term that translates roughly to "chav" or "redneck", as well as 'massovka', a slur connoting a mass-mob.
We might ask Nemtsov: "Have you ever seen a country where a leader of the supposedly enlightened liberal opposition hoping to create a mass democratic movement uses words like chavs and rednecks?"
This is not an accident, and ordinary Russian people have always sensed the classist venom imbuing Nemtsov and many of his liberal comrades, which might go some way to accounting for his party's inability to gain even 7% of the vote way before Putin tightened the screws.
For now, many Russian people continue to admire and respect Putin, but increasing numbers are becoming fed up with his personality cult, his empty theatrics, lack of ideology other than power, and his lack of respect for the country's institutions and voters' intelligence; with the inability of wages to keep up with inflation, the corruption, the shoddy service provision, the general atmosphere of chauvinism that he has bred in the country.
But it's not enough to be disillusioned: voters need someone to vote for before they can be persuaded to vote against the devil they know.
The opposition's inability (and unwillingness?) to capitalise on the biggest crisis facing Putin in 10 years shows that, while they certainly don't deserve to be arrested, they don't deserve to be in power either. At least Putin had enough fire in his belly to hire all those carousel voters!