Has Constitutional Monarchy Given Way to Continual Anarchy in Nepal?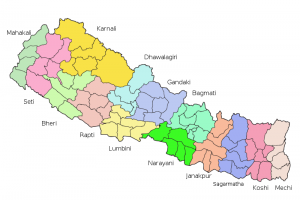 When Nepal's current Communist Party of Nepal (Maoist) Prime Minister Baburam Bhattarai assumed office in November 2011 to head a coalition government with the Madhesi Front as partner, many in Nepal were cautiously optimistic about him bringing an end to the disillusionment brought by four failed governments in four years- owing to delay in the peace and constitution drafting process.
The reason for the optimism lay in the public perception of him as a PhD holding, upright doer. During his tenure as the finance minister in the 2008 Maoist regime, he was credited with boosting state revenue and cracking down on tax evaders. He also received near immediate support of the international community, as it appreciated the fact that the Maoist party had to be a part of the solution, and Bhattarai was the most acceptable face among the Maoists.
But Bhattarai had no illusions about the job. Hardliners within his party openly called him an Indian stooge, and Pushpa Kamal Dahal has done everything to undermine his deputy. The radicals were out to make Bhattarai look like a failure right from the beginning. In fact, experts suggested that he had better relations with leaders of rival parties like Nepali Congress (NC) and Communist Party of Nepal (Unified Marxist-Leninist) than from the hardliners in his own party.
All that ensured that he began on a false note. To accommodate all members of the Madhesi Front, comprising three Madhesh based political parties (Sadbhavana Party, Tarai-Madhesh Loktantrik Party, and Madhesi Jana Adhikar Forum), he broke all previous records by swearing in the biggest government ever. It wasn't just the numbers, the ministers lacked credibility and were immediately embroiled in controversies like the "pre-paid" kickbacks for transfers of police and civil servants.
As the scandals piled up, Bhattarai himself was found wanting in many spheres, from "leaking" the Chinese Prime Minister's visit date, which China always warns against in view of anticipated protests by Tibetan settlers in Nepal; calling the signing of an investment guarantee treaty with India a "gamble"; to saying that if Nepal isn't careful it could be "merged" with its giant neighbors.
If an eroded personal credibility of Bhattarai wasn't bad enough, a severe shortage of gas cylinders, essential for heating and cooking in a country with no mains supply, has increased the challenges for the prime minister of a population that is already enduring daily power cuts of up to 14 hours – the worst energy scenario in all of South Asia.
The crisis has led to angry criticism of the government and even civil unrest. In February, a group of Nepalese stopped delivery trucks carrying gas on a busy highway and distributed the cylinders among themselves.
The fuel shortage has now lasted four months, and it seems like the Maoist supply minister is either unable or unwilling to resolve the crisis because he belongs to a Maoist faction out to prove the prime minister incompetent.
But the question that is bigger than the daily lives of common Nepalis is the daily life by the Himalayan state itself. On assuming office, Bhattarai had stuck his neck out and promised a new constitution in 45 days – something that the nation had not been able to achieve in the previous two years. With three months to go for a non-extendable deadline of May 31, the constitution is bogged down over disagreements on state restructuring and form of governance.
Analysts – and even the international community – are worried about holding the ship of state together, and prevent a slide towards violent ethnic fragmentation that is expected to come to the fore in the present endeavor to divide the nation into states. There are no states at present and administrative tasks are undertaken through 75 districts – a disparately high figure for a country Nepal's size.
The peace deal signed in 2006 after a 10 year civil war mentions "democratic restructuring of the state" but the process of division of a nation with more than 100 ethnic groups with around 12 prominent languages is proving to be a headache for the government.
The commission entrusted with the task submitted its report in January but while six members proposed 11 states on ethnic lines, including one especially for Dalits, three others suggested Nepal should have six states stretching from north to south. With no clear proposal, experts believe that the report has led to more differences within the communities.
Several ethnic groups are now demanding creation of more states and threatening agitation. The volatility has led many quarters to fear for the country's disintegration, with smaller units gobbled up by bigger neighbors.
It is precisely the scenario that had led Bhattarai to exclaim that if Nepal isn't careful it could be "merged" with its giant neighbors. The situation, obviously, is not as theatrical as that. But it sums up the state of mind of an average Nepali in the present hour of anarchy.