Malema's own Words Come Back to Haunt Him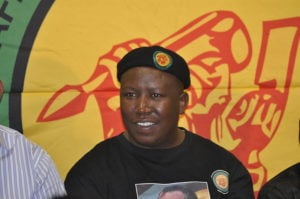 Your own words can came back to haunt you. So learned South Africa's Julius Malema, the controversial African National Congress Youth League (ANCYL) leader expelled from the ANC for sowing disunity and bringing the ANC into disrepute last Wednesday. In what sounds like a sign of defeat and humiliation, the flamboyant Malema, who's own firebrand political style includes trashing and dismissing his political opponents as nothing but garbage that belongs in the dustbin of history, is reportedly pleading for the ANC not to throw him into the 'dustbin' for his mistakes. "If we made a mistake, discipline us. Don't throw us in the dustbin," Malema is quoted as telling South Africa's Sunday Times.
Some of Malema's hate-mouthed speeches include calling his opponents, especially the head of the opposition party Democratic Alliance (DA) Hellen Zille, cockroaches, inciting a Zimbabwe style land grab, calling for the overthrow of the Botswana government, and vowing to "kill for" SA President Jacob Zuma, who he helped in dethroning former President Thabo Mbeki. True to his colors of rebelliousness and militancy, Malema tried to pull a Thabo Mbeki on his ally, turning against Zuma by publicly ridiculing him. This decision turned out to be a political miscalculation on the part of Malema. Jacob Zuma, a master firebrand himself, fired back in the form of the ANC disciplinary hearing, suspension and eventually the expulsion.
The impact of Malema's expulsion on the ANC is still uncertain, but some people within the ANC and ANCYL are reportedly not happy about the decision and are already urging Malema to fight back. Why? Malema, despite his affluent lifestyle, for the most part is seen as the voice of the poor in South Africa. But for me, I see Malema as symptomatic of what is wrong with the South African leadership (or African leadership in general) because he appeals to the darker side of the South African democracy.