Iraqi LGBT Community Targeted in Coordinated Attacks
The San Diego Gay and Lesbian News is reporting that human rights NGOs based in Iraq have received alarming reports that the country is facing another bloody wave of targeted attacks on men, women and children who are believed to be gay or lesbian.
In the past month, some 40 Iraqis accused of homosexual preference have been kidnapped, tortured and murdered . Most of these attacks have occurred in predominantly Shi'a neighborhoods in Baghdad and Basra – two hotbeds of simmering Shi'a radicalism – possibly egged on with the full protection of the law.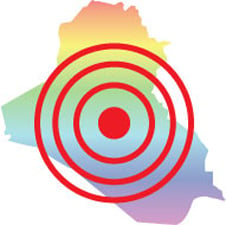 The attacks began in early February after an unidentified group posted public death threats against "adulterous individuals" in the two cities. Given four days to adjust their behavior or face violent payback (clumsily masquerading as "divine retribution"), the victims began to disappear shortly thereafter.
This is not the first time such targeted attacks have surfaced. In 2006, asylum requests filed by LGBT Iraqis to the United States and Great Britain soared as evidence mounted that Shi'a militias were murdering suspected adult homosexuals and children who had been sold into sexual slavery.
Homosexuality in Iraq has been decriminalized, but it is still considered strictly taboo by the vast majority of the population. Allegations had previously surfaced that uniformed Iraqi police officers have moonlit as death squads, carrying out lethal attacks on perceived homosexuals.
It's a sad fact that the worst and most virulent homophobia in Iraq has been witnessed in Shi'a neighborhoods. Although Iraqi gays claimed success in 2006 following the decision of Grand Ayatollah Ali al Sistani to remove a fatwa calling for the killing of all homosexuals in the "worst, most severe way possible" from his website, the tone of conduct was clearly established years ago.