Jim Yong Kim: A Global Health Champion for the World Bank?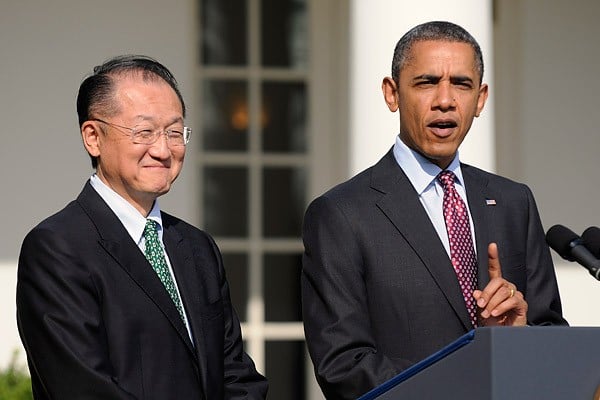 United States President Barack Obama announced today that he was nominating Dr. Jim Yong Kim for president of the World Bank.  This was a surprise to almost everyone, as Dr. Kim is not a traditional pick by any means: a medical anthropologist and physician, current president of Dartmouth College, co-founder of the non-profit Partners in Health (PIH), and former director of the World Health Organization's HIV/AIDS department, he does not have a financial or political background.  He is, however, an expert in global health and development issues, with the academic and practical chops to back it up.  Much praise and some criticism has followed Dr. Kim's nomination, which, if successful, would have obvious implications for global health and development policies at the World Bank.
In the Rose Garden of the White House this morning, President Obama asserted: "Despite its name, the World Bank is more than just a bank.  It's one of the most powerful tools we have to reduce poverty and raise standards of living in some of the poorest countries on the planet."  These remarks are a clear argument for his unconventional choice.  President Obama also cited the focus on public health, particularly HIV/AIDS, in his administration's development policies.  He explained that "the leader of the World Bank should have a deep understanding of the role development plays in the world and the importance of creating conditions where assistance is no longer needed," going on to say: "healthy populations enable growth and prosperity.  And I'm pleased that Jim brings this particular expertise with him to his new job."
The New York Times reported that Dr. Kim was "not among those bandied about" since the current president of the World Bank, Robert Zoellnick, announced his intention to step down on June 30 of this year.  Since the establishment of the World Bank and International Monetary Fund in 1944, a "gentlemen's agreement" between the US and Europe has dictated that the former nominate the head of the World Bank and the latter the head of the IMF.  Unsurprisingly, this has come under fire from the developing world, especially from emerging economies, who want a fairer process.  Angola, South Africa, and Nigeria have officially nominated Ngozi Okonjo-Iweala to head the World Bank.  She is the Nigerian finance minister and a former World Bank managing director.  Former Colombian finance minister and UN official José Antonio Ocampo has also been suggested for the job.  Jeffrey Sachs, development economist, nominated himself this month but has since withdrawn, putting his support behind Dr. Kim.  Yesterday, The New Yorker's John Cassidy discussed the possible selection of economist and former Obama advisor Lawrence Summers, whom he wrote would be a difficult but conservative choice.  Cassidy also pointed to US Ambassador to the United Nations Susan Rice and PepsiCo CEO Indyra Nooyi as contenders.
Cassidy's analysis crystallizes many of the reasons why President Obama would make an unorthodox choice in Dr. Kim over, for example, the more economically-experienced Summers, who is tied to Wall Street and traditional centers of financial and political power, close to the Obama administration, and a strong believer "that the United States has much to teach the world."  In contrast, Dr. Kim is firmly planted within the global health and development communities, which have been critics of the World Bank and IMF policies in the past, and has ties to and experience in the developing world.  He's an outsider.  All of this could bolster him in the face of mounting pressure from other nations to appoint  someone who is not American to the World Bank.  PIH, predictably, was overjoyed with the selection.  Co-Founder Paul Farmer said: "I can think of no one more able to help families, communities, and entire nations break out of poverty, which is the stated goal of the World Bank."  His sentiments were echoed by former US President Bill Clinton and current Rwandan President Paul Kagame.  Not everyone, however, is happy with President Obama's move.  As Susan Adams of Forbes reported, Harvard Professor Lant Pritchett called the nomination "an embarrassment to the US," charging that Dr. Kim "has no experience in banking, policy making, economics or development."  Pritchett held up Ms. Ojonko-Iweala or "colleague and friend" Lawrence Summers as more appropriate choices, arguing: "Development is about countries becoming prosperous, democratic and capable, like being able to deliver the mail, having police forces that work and kids who get educated.  Charity work is helping people cope with the fact that they live in places where they don't have those things."  Pritchett also said: "I wouldn't nominate Mother Teresa to head the World Bank if she were still alive."
Although Pritchett's words are a bit intemperate, he does have a point: Dr. Kim is not the traditional choice to lead the World Bank.  In my opinion, that's a good thing for developing nations and for global health.  As a co-founder of PIH, Dr. Kim helped forward the notion that the poor not only deserve but have a right to the highest standards of health care and treatment (see PIH's vision here).  At the WHO he oversaw the 3×5 initiative, which sought to put 3 million people living with HIV on antiretroviral treatment by 2005, and at PIH, he contributed to the development of a treatment program for multi-drug resistant tuberculosis and fought successfully to lower the cost of TB drugs (see this Wall Street Journal article).  During his time at Harvard Medical School as chair of the global health and social medicine department, he co-founded the Global Health Delivery Project, which works to improve health care and systems in the developing world.  While Dartmouth's president, he remained committed to global health issues, galvanizing the student body to raise $1 million following the earthquake in Haiti, among other actions.  Jena McGregor of The Washington Post pointed out that if confirmed by the World Bank's Board of Executive Directors, Dr. Kim would be the first World Bank president in history "who has devoted his career to helping the poor."  President Obama stated this morning that "it's time for a development professional to lead the world's largest development agency," and I could not agree more.  The World Bank and IMF's devastating structural adjustment programs of the 1980s had a terrible effect on global health, worsening child nutrition, increasing infectious disease incidence, and heightening maternal and infant mortality rates.  Traditional financial institutions, players, and policies contributed to the negligence that caused the current global recession, which has led to draconian cuts to global health funding and put years' worth of progress in jeopardy.  Dr. Kim is a welcome and very much needed change.  His track record of compassion for the world's underprivileged and his pursuit of effective, scientifically-backed strategies to improve global health and development should hearten anyone who expects more out of its global bodies.  I welcome the appointment of Dr. Kim to the World Bank.  May we see great changes in the years ahead.
With special thanks to Hannah Burnett for inspiration for this piece.
Image: Jonathan Ernst / Reuters via Time.