Amelia Earhart & The Spirit of America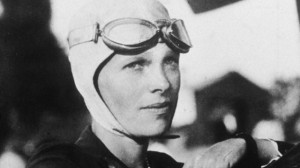 Do you follow celebrity news? I have to admit that it's not something I keep up with. I'm not one to care all that much about celebrities or their occasional forays into foreign policy. I know there are people who base their foreign policy views on the well-informed opinions of celebrities like Angelina Jolie, George Clooney or Sean Penn. Not that there's anything wrong with that. Still, I was surprised to learn a few days ago that Hillary Clinton used her position to praise aviator Amelia Earhart, not in an offhand comment but in a special event hosted at the State Department. Clinton welcomed a group of scientists to the State Department, the scientists are looking into new clues about the disappearance of Earhart 75 years ago. Clinton offered encouragement and used the opportunity to reach out to America's Pacific neighbors.
I have to admit, I don't know much about Earhart beyond the basic facts of her disappearance and was a bit surprised that this is something Secretary Clinton would spend her time on. Why exactly would the U.S. Secretary of State bother with such an old, if enduring, mystery? Secretary Clinton offered an answer in her remarks in which she depicted the aviator as a symbol of the U.S. role in the world. According to Secretary Clinton:
Think for a minute about the world Amelia and her navigator Fred Noonan were circumnavigating. America in 1937 was still in the grips of the Great Depression; millions were out of work, millions more were struggling. Around the world, authoritarianism was on the march. War loomed, people wondered openly about the future of our country. They asked if democracy, if free market capitalism, America itself could survive. […] Now Amelia Earhart may have been an unlikely heroine for a nation down on its luck, but she embodied the spirit of an America coming of age and increasingly confident, ready to lead in a quite uncertain and dangerous world. She gave people hope and she inspired them to dream bigger and bolder. When she took off on that historic journey, she carried the aspirations of our entire country with her.
In a time when celebrities are so often symbols of the worst of America it's nice to think that there was a time when a celebrity aviator could serve as a symbol for the best of America by demonstrating bravery, courage, and pushing science and technology to the edge of what was possible at the time.
Image Credit: ABC News