If the Pope cannot do it, who can?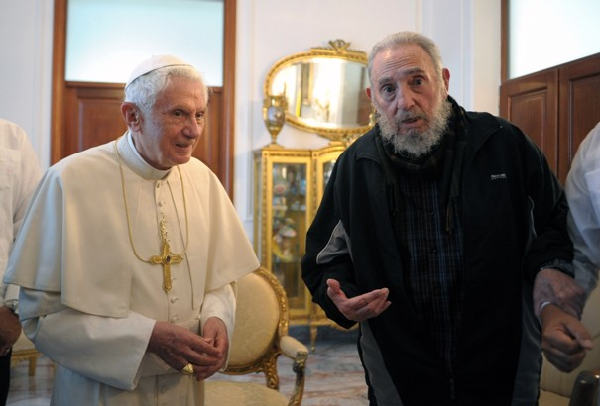 On a visit to the Western Hemisphere last week from Rome, Pope Benedict XVI stopped first in Mexico, a country whose population is 80-85% Catholic. It is the most Catholic, in this sense, of the world's Spanish-speaking countries. His second visit was to Cuba, a country that has been traditionally Catholic, but was officially an atheist state from 1959 until the fall of the Soviet Union, when it amended its statutes and declared itself a "secular state" instead. In fact, pollsters now call Cuba the least devout nation in Latin America — so perhaps the least Catholic of the world's Spanish-speaking countries.
So why, with only two stops in the hemisphere, was Cuba a destination for the papal visit? Perhaps precisely because it is the country in Latin America where the Church's influence has changed so dramatically in the last two decades, and where the Church has significant gains to consolidate. The Church has been a positive force in particular over the last couple of years in working with the Cuban government to negotiate the release of dissident prisoners that occurred in 2010 and 2011, which came as a very pleasant surprise for Cuba watchers. And after long years of oppression in the last half century, the Church is now much more respected by the government, and Catholic Cubans enjoy the right to worship: last Wednesday was even made a paid holiday for Cuban state workers to attend mass with the Pope.
But critics of last week's visit pointed to the Pope's comments before departing for Cuba ("Today it is evident that Marxist ideology in the way it was conceived no longer corresponds to reality… New models must be found with patience and in a constructive way."), squared them against the fact that he would not be meeting with any dissidents during his visit on the island, and thus argued that he was perhaps not doing enough, not leaving a lasting impression on the island, and not using his visit to push for something big — whether that meant in terms of human rights or political change. The U.S. State Department, too, had urged the Pope to use his 48-hour visit to speak out against the regime. Anyone actually expecting this would have been disappointed.
The assessment is an impatient one. What did activists really anticipate from a two-day visit beyond what did happen? We saw Pope Benedict XVI meet with both Raúl and Fidel Castro, and speak openly and frankly with both. No morals or principles were compromised in those discussions or in his public addresses. He spoke of "reconciliation," "unity," "authentic freedom" and "greater openness." He gave a sermon to an assembled crowd, with President Castro seated in the first row, that warned against the mindset of those that "close themselves up in their own truth and try to impose it upon others." And he openly requested that the increasing religious freedoms granted to Cubans continue to be allowed to expand.
But he did not meet with dissidents, and some, including the Ladies in White, had requested an audience with him. Various reports cited hundreds of Cuban dissidents rounded up and held for the time that the Pope was in the country in order to avoid "problems" (though others cited peaceful protests by the Ladies in White proceeding with fewer issues than usual for the dissidents involved). What is the responsibility of the Vatican on these issues? Frankly, such meetings would have made the conversations with the Castros much more challenging, and the Church has already shown that it fully and publicly supports the freedoms of Cuban dissidents, so that is not in question. It could be argued that it is much more effective to push for those freedoms by speaking directly with the head of the country.
Key here is that the Vatican appears to understand something that has been so difficult for the United States to grasp, whether due to political realities or simply stubborn hard-headedness. Consistent dialogue and respectful exchanges of views will ultimately be more effective with Havana than an attempted one-way imposition of values. Raúl closed the Pope's visit to the island not with a combative response to Benedict's suggestions, but with a respectful statement that included the comment, "We do not think alike on all matters."
The polite diplomacy therein is noteworthy. And the Church continues to make gains in Cuba with this tack: following Pope Benedict's departure, Havana honored an appeal made during his visit and declared Good Friday a holiday for Cuban workers.
Any lessons to be learned there?
(Photo credit: Osservatore Romano via AP)