Too Big to Fail: The Global Fund at a Crossroads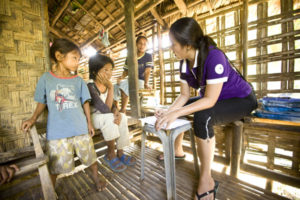 Earlier this year, the global health community watched with bated breath as The Global Fund to Fight AIDS, Tuberculosis and Malaria stood at a precipice.
The chain of events was like a series of dominoes falling.  Earlier, in October 2011, cash-strapped donor countries with austerity budgets said "no" when the Fund asked for $20 billion in replenishment funding.  Faced with commitments far outstretching reserves, the Fund cancelled any further grantmaking until 2014.  Poor country governments with looming treatment budgets and minimal health budgets howled while NGOs serving patients made pleas supported by scary statistics.  Meanwhile, audits of the Fund turned up significant issues of fraud.
But the Fund wasn't just facing a financial crisis; it was caught up in election year politics as well (read Laurie Garrett's account).  Both French and US electoral politics put Executive Director Michel Kazatchkine in a bind: to consent to restructuring meant admitting the failings of the past (which French president, Nicolas Sarkozy, did not want), but was placing the future of the Fund in great peril (as US Secretary of State, Hillary Clinton, spoke out against).  Kazatchkine, unable to stem the tide, submitted his resignation letter.  The Fund, long-lauded as a rare success story in the search for the holy grail of multilateral funding, seemed doomed.
In recent weeks, however, the global community has rallied, confirming that the Global Fund is indeed "too big to fail".  Bill Gates put up a "promissory note" for $750 million and donor countries set about putting conditions on future funding.  Most recently, a new General Manager, Gabriel Jaramillo, has taken Kazatchkine's place – and, as a sign of the times – he is a former banker with 35 years of experience in the finance industry (Kazatchkine is a medical doctor).
In his most recent interview with El Mundo, Jaramillo outlines his mandate as having three objectives: (1) improving the management processes of the Fund to be rigorous and disciplined; (2) ensuring that the Fund is focused on programs that have a high return on investment; and (3) raising funds from "traditional" countries as well as new countries who have "graduated".
According to Jaramillo, for the fund to lose momentumm is "not an option.  The Fund is too important to let that happen."
Over the next few weeks, I'll be taking a close look at the change in leadership at the Global Fund and the implications for global health funding generally.  The changes at the Global Fund are reflective of a seachange in global health funding, both politically and philosophically.  For practitioners in the field of global health, this shift is critical; for citizens in a global world, the shift will impact generations.