Human Rights and Graffiti
Creating awareness for and showing solidarity with those who have and continue to be persecuted and permanently silenced by the Iranian Government, the Mad Graffiti Campaign for Human Rights in Iran was a seven-day international event aimed at raising awareness about social injustice in the Islamic Republic.  Part of the United For Iran Campaign, which aimed to educate and draw attention to the myriad of injustices occurring in Iran, Mad Graffiti used street art to educate the international community about political prisoners, police brutality, and other human rights violations in Iran.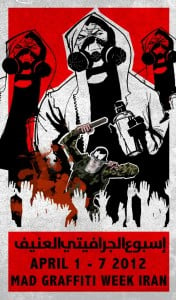 Modeled after a similar movement in Egypt, Mad Graffiti Iran's simple albeit powerful medium, stenciling, was a means for average people worldwide to show their solidarity with Iranians' struggle for fundamental human rights. Social media was the platform for the global invite to join Mad Graffiti and acted as a forum to exchange ideas during the campaign, which took place from April 1st to April 7th. The movement's organizers provided information about political prisoners, instructional videos to create stencils, and locations of embassies and other places to stencil their messages. Participants were encouraged to post photos and videos of their artwork on the group's Facebook page.
Among the four stencils provided by the movement was Bahai 7, which aimed to raise awareness about persecuted minority groups. In 2008, Iran arrested seven members of the Baha'i faith. In 2009, they were charged with spying for Israel and sentenced to 20-years imprisonment. Collectively, they have spent more than 10,000 days incarcerated
In coordination with Mad Graffiti, United for Iran launched a global campaign to free the seven imprisoned Baha'i members. Twelve international cities including Washington DC, Paris, and Berlin used mobile billboards to educate the masses about the unjustly imprisoned Baha'i members.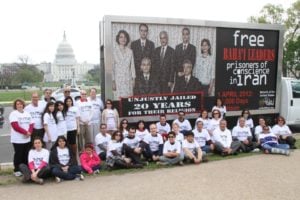 Mobile Billboard in Washington, DC
Two stencils provided by the movement were of female political prisoners Nasrin Sotoudeh, a leading human rights lawyer, and Bahareh Hedayat, a women's rights activist.
Arrested in September 2010 on charges of conspiring to harm national security, Nasrin Sotoudeh was sentenced to 11 years in prison. She was barred from practicing law and leaving Iran for 20 years. More than 20,000 supporters have united with Amnesty International's campaign to free Nasrin.
In December 2009, months after the highly contested Iranian presidential election, Bahareh Hedayat, a well-known student activist was arrested for the fifth time in four years. The following year Hedayat, a leading member of Iran's pro-democracy student movement, was sentenced to 9.5 years imprisonment for her participation in peaceful protests and other civil activities. Currently, the Free Bahareh Hedayat Facebook page has just over 5,000 likes.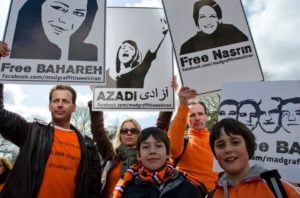 By raising awareness about human rights issues in Iran the Mad Graffiti Campaign and United For Iran Movement are among many grassroots efforts provoking people worldwide to question government actions and demand change.
Although Human Rights Day is celebrated each December to commemorate the signing of the Universal Declaration of Human Rights, human rights violations occur daily. As such, it is crucial that we not only celebrate the Universal Declaration of Human Rights but that we as global citizens work daily to ensure that its provisions are upheld.