No Different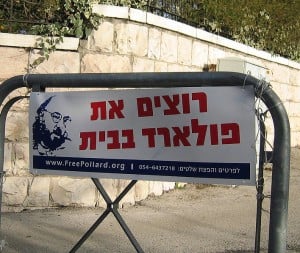 Israeli politics more so than in many other countries tends to focus on larger than life characters and individuals placed in larger than life situations.
Former Prime Minister Ariel Sharon, a war general at the heart of a major controversy in the Lebanon War, rose to power after decades in politics, dumped his party's long standing policies, disengaged from the Gaza Strip …. and then fell into a coma, upon which he still dominated Israeli discourse and prompted sadness from both the left and right that future leaders would not be able to fill his shoes.
Similarly, until his recent release from Hamas captivity, abducted Israeli soldier Gilad Shalit was the center of Israeli debate, which tore the country apart between protesters who called for a prisoner swap and those who said negotiations would lead to more abductions and lives lost.
The list goes on.
But among these lightning rods of Israeli political lightning rods is Jonathan Pollard, a convicted spy who is sitting (and likely dying) in U.S. prison.
Except with Pollard, virtually all Israelis and many U.S. Jews advocated for his release, arguing that he has done his time and cannot harm the United States any longer. They further contend that the United States is hypocritical because, they allege, U.S. spies have permeated Israeli society.
In fact, even though the past several administrations have kept Pollard locked up, President Barack Obama faces criticism as, they allege, the Pollard policy is indicative of the Obama administration's "anti-Israel" policy. President Obama has even obtained letters written by high-level Israeli politicians and individuals within the pro-Israel community to let Pollard go.
In defense of the bulk of Israeli society — they are correct. Pollard has been in prison for a considerable amount of time and likely has no more secrets to share that could harm the United States. Releasing him would be an act of mercy for a man who is likely not to live all too much longer.
U.S. intelligence services already know what they can and should share with Israel, and what to keep here at home. However, the special bond shared by Israel and the United States should not extend to criminals. Pollard violated U.S. law and could have put the security of America at risk by leaking classified information. He committed espionage and did not receive the full punishment possible — death.
Instead, he has been in prison for years, serving his sentence for betraying the trust of Americans.
The act of spying on the United States for Israel is no different than spying on the United States for any other country. Pollard is a traitor, and only that should establish his punishment. A spy is a spy, and the Obama administration, just like those before it, is treating this situation correctly — as unacceptable espionage. Period.
While the Pollard situation is clearly unfortunate, it should not be treated any differently than similar espionage.