Solidarity with Iran's Green Revolution
The world watched as campaigns during the 2009 Iranian Presidential election unfolded, and hopes were high that an administration change was imminent. The disputed reelection of Iranian President Mahmoud Ahmadinejad catalyzed a wave of protests. Beginning June 12th, post-election uprisings occurred throughout Iran, and the world, to contest the election results and demand democracy and human rights for the people of Iran. Despite protestors' attempts to attain and protect human and civil rights in what is now called Iran's Green Revolution, Ahmadinejad tightened his rule and during the past three years has continued to strangle his peoples' already limited rights.
Security forces, including the paramilitary Basij militia, operated with near total impunity once the June 12 protests began. The government tightened restrictions on public assembly and expression that directly affected non-governmental organizations (NGO) and opposing political parties. Amnesty International details the torture and inhuman punishments, including flogging and forced amputation, increasing after the start of the Green Revolution. In December 2009, the United Nations General Assembly (UNGA) passed a resolution condemning human rights violations in the Islamic Republic. Passed under Chapter 6 of the United Nations Charter, the resolution was nonbinding and served solely as a recommendation to the Iranian government.
Empowering the Green Revolution through social media, including Twitter, Facebook, and YouTube, Iranians informed the world about the horrors occurring inside the Islamic Republic. Arrests, military violence, torture, and censorship were all documented via the Internet. Unfortunately, despite Iranians' efforts, the Green Revolution was neither successful in ending Ahmadinejad's rule nor securing the Iranians' rights.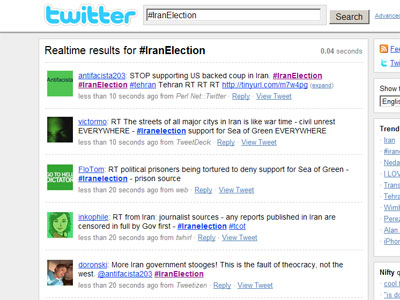 Today marks the three-year anniversary of the beginning of Iran's Green Revolution and its peoples' unwavering, public attempts to attain a freer, safer society. However, Iran remains a country in turmoil, ruled by a government whose apparent obsession with maintaining power has resulted in the arrests of more than 20,000 people and executions in excess of 600.
Justifiable fears of government punishment have resulted in the Green Revolution developing abroad. In solidarity with those who are restricted by the oppressive Iranian regime, individuals and organizations have sustained the Green Revolution through a variety of mediums including, demonstrations, informational websites, petitions, and artistic exhibits. United4Iran is among the many organizations working to secure change in the Islamic Republic. A global network of people working to promote and attain human and civil rights in Iran, United4Iran is at the forefront of creative methods to educate about the injustices occurring in Iran and inspiring individuals to take action.
In collaboration with musicians from Iran, Egypt, Libya, South Africa, the United States, Iraq, and others, United4Iran has produced a music collection of songs of resistance and the struggle to attain freedom. Representing a multitude of backgrounds, with many having experienced persecution and oppression, the artists' songs provide a platform for discussion of the stains on self-proclaimed democracies and peoples' unfaltering desire for security and the ability to live a life free from fear. Despite different genres, languages, and stories, the contents of AZADI: Freedom Songs for Iran, ultimately convey the same message, solidarity with Iran's oppressed.
Iranian born I.Sheik and collaborator Dfi use rap as a medium to trace Iran's past thirty years of political history in "Revolution of the Mind." Although the beat makes this song a potential radio-hit, it is the powerful lyrics that successfully weave a connection between the listener and people he/she has never met.
"My brother, I suffered.
I led for my people.
Thought, I fought, I bled for my people.
Weep, I grieve, I mourn for my people.
Until we are free, I'm at war for my people.
Soldiers don't hide, I ride for my people.
Anything to restore the pride for my people.
Screaming to the sky, I cry for my people.
Knowing one day I may die for my people."
California poet and musician Ayla Nereo's powerful folk vocals in "Darkest Light" provide a prayer of solidarity with the struggles endured by Iranians in their quest for freedom. The lyrics provoke listeners to question life in a world without rights and freedom that people throughout the world too often take for granted.
"Khosh amadid, this is a story of a mother.
She is searching for her son.
And do you feel all her mourning, over the ocean.
Many miles yet her story is our own.
Khosh amadid, this is for freedom.
How can we stand and watch our children be slain for honesty.
In the name of God.
In the name of life for every brother, sister, standing for the right to be free…
And you risk everything for love.
And you risk everything just to live in peace.
And you risk everything for truth.
And you risk everything for your right to believe."
Haale, a New York composer and singer's "The Voice" is a poetic commemoration of the life and spirit of Neda Aga Soltan who was killed on June 20, 2009 during a post-Iranian presidential election protest. Photos and videos of the 27-year-old college-educated woman's gruesome death became, and continue to be, an image of the country's opposition movement. Haale's words vividly illustrate Neda's post-death influence on fellow Iranians seeking to attain the freedoms Neda desired but will never experience.
"Desire burns for freedom
In this we know that we are one
Your voice, your call for freedom
It echoes through us all and amplifies"
While many people may feel helpless in the struggle to end human suffering in Iran and other countries, it is the simple act of joining efforts, on whatever scale possible, that will eventually lead to change. Education is a powerful tool global citizens can arm themselves with in the international struggle to secure human rights. Despite the many strides made by governments, private organizations, and individuals to advance our world, there are still copious evils. While music may not end the world's problems, it is an effective means of education. The AZADI compilation depicts music as a powerful medium for overcoming the differences that divide our world, using art to create a bond through a shared desire for freedom.