Vladivostok, Future Capital of Siberia?
In the latest edition of Russia in Global Affairs, Sergei Karaganov suggests that Russia needs three capitals: Moscow, St. Petersburg, and Vladivostok. The third city would be the capital of Siberia and would constitute a new economic capital for Russia. Vladivostok is about as far south as you can get in Siberia, and it's really not near the Arctic at all. In fact, sitting on the shores of the Pacific Ocean, it enjoys a "monsoon-influenced humid continental climate" with "warm summers" (Köppen climate classification).
Karaganov, a dean of the Higher School of Economics at the National Research University, writes, "To make a real turn to Asia through new development of Siberia, it is necessary to announce–after discussions and calculations–the handover of a sizable portion of Moscow's functions to a Far Eastern city. This idea is in the air. This is instead of unreasonably overbuilding Moscow which sucks the lifeblood out of the whole country as it is."
Karaganov's proposal is unusual as it encourages one to think of Siberia as oriented towards Asia rather than the Arctic. Vladivostok is much closer to Beijing, Pyongyang, Seoul, and Tokyo than Moscow and St. Petersburg, so it makes sense to try to use the city to foster trade with Asia. Already, it serves as a hub for the import of Japanese cars, which are later sold throughout Russia. Were a more Arctic-oriented city to be chosen as a capital of Siberia, that title would likely fall to Yakutsk (pop. 269,486), the so-called "coldest city on earth" which sits on the Lena River, Noril'sk (pop. 175,301), a big mining city in central Siberia, or Magadan (pop. 95,925), on the Sea of Okhotsk.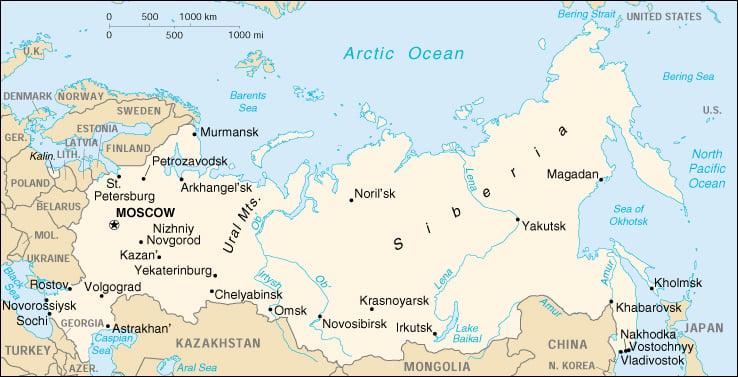 Vladivostok forms the eastern end of the Northern Sea Route and the terminus of the Trans-Siberian Railway, so it is well-connected to other parts of the Arctic and Siberia both by sea and by land. Moscow probably won't be delegating any of its powers to Vladivostok soon, though, but as a thought experiment, imagine if it were to become the focal point for the development of Siberia. At that point, we would probably see a rejiggering of the concept of "Siberia." Designating Vladivostok as a capital city would help make the region more attractive to young, educated people as it would be seen as close to burgeoning Asia rather than the forbidding, harsh Arctic. The government would focus on increasing economic development in Siberia's southeastern edges, which are near China, Korea, and Japan. As a result, it's possible that the development of the Siberian Arctic could lose out. Resources will still be developed there, no doubt, but funds for things that improve quality of life–such as housing, universities, hospitals, and cultural events–would likely be focused on the Vladivostok area. Siberia's population might be stabilized, but, as in western Russia, the population would be highly concentrated in a city. Such a development scheme would not staunch the demographic drain from Russia's Arctic towns and cities, which are almost all losing residents to warmer climes.
Vladivostok will host the Asia-Pacific Economic Cooperation summit in September. That will really put the city, and Russia's Far East's ties with Asia, in the limelight. Yet even before the summit, Asian investment has already started flowing into Siberia. Tokyo—Japan Oil, Gas and Metals National Corporation has just agreed to jointly develop a 100-million barrel oil field in Ignyalinsky, Irkutsk (in southeastern Siberia) with Gazprom. This should help Japan to diversify its oil supplies, most of which currently come from the Middle East. Japan and Russia also just signed a memorandum of understanding to build a liquified natural gas terminal in Vladivostok. Ultimately, if it continues on its current trajectory, the city might not just constitute the end of the Northern Sea Route, but also a hub or halfway point connecting Asia with the Russian Arctic.