South Korea and Norway sign memoranda of understanding on Arctic shipping and shipbuilding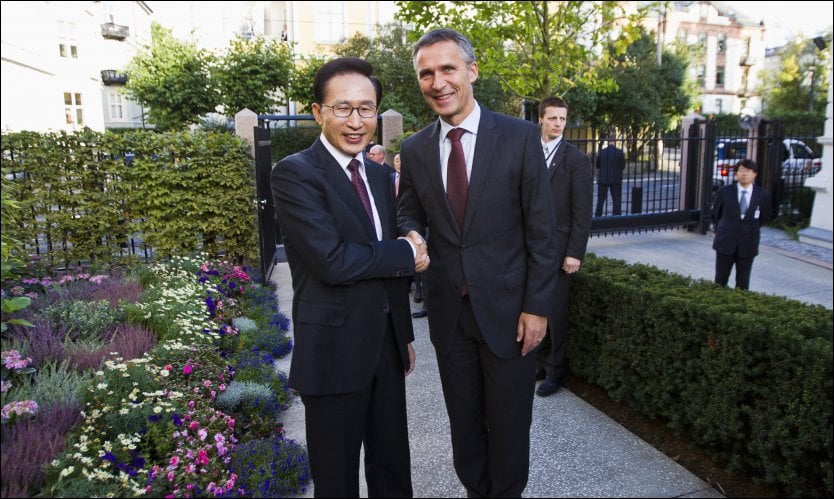 Last week, South Korean President Lee Myung-bak visited Norway for two days. He met with Norwegian Prime Minister Jens Stoltenberg to discuss trade relations, political cooperation, and North Korea. The two countries signed two memoranda of understanding. The first concerns environmentally-conscientious shipbuilding, which makes sense given the two countries' heavy involvement in the industry. South Korea is the largest shipbuilding nation in the world. Its companies like Hyundai Heavy, Daewoo Shipbuilding and Samsung Heavy build everything from LNG tankers to drill ships to cruise liners, all of which are in demand by Norway (just think of the needs of Statoil and Norwegian Cruise Lines) and other countries around the world. STX Corporation, another Korean shipbuilder, acquired Norwegian shipping company Aker Yards in 2008, which used to be the biggest in Europe. South Korean companies are bidding to construct the Norwegian navy's new logistics ships, highlighting the close cooperation and trust between the two countries both economically and militarily.
A South Korean delegation led by Choi Hong-Ki, head of the Defense Ministry's Department of International Relations, visited the Norwegian Defense Ministry as Myung-bak was meeting with others elsewhere. South Korea, which has several boundary disputes in the waters off its coasts, was especially interested in learning about how Norway resolved its boundary dispute in the Barents Sea with Russia last year. After meeting with the visiting delegation, Norwegian Defense Minister Espen Barthe Eide said, "We had a great conversation about the security challenges in our respective countries. We also see a security policy shift from Europe to Asia. Many people are probably not aware that Norway and South Korea have a long history together and repeatedly participated in joint exercises."
The second memorandum of understanding regards actual shipping in the High North. Though still expensive due to the cost of hiring an icebreaker escort, shipping between Asia and northern Europe can be up to 40% faster via the Northern Sea Route than via the Suez Canal. South Korea is Norway's second-largest trading partner in Asia, and with trade growing 70% this year alone, it could surpass China next year to take the number one spot. Hydrocarbons could be a big bonanza for shipping between Northern Europe, Russia, and South Korea. This year already, according to Barents Observer, two tankers sailed from Russia to South Korea along the Northern Sea Route carrying gas condensate. Another tanker carrying kerosene sailed from Finland to South Korea. Technology for offshore oil drilling developed in Norway also has a big export market in South Korea.
Stoltenberg remarked at a press conference, "Norway appreciates South-Korea's interest in the development of the Arctic areas." He also voiced his country's support of South Korea's bid for permanent observer status in the Arctic Council — something it has not done for China. Norway's relations with China are much tenser than those with South Korea.
Lee stated at the same conference, "Prime Minister Stoltenberg and I agreed to forge a future-oriented partnership aimed at tackling climate change and environment-friendly development and preservation of the Arctic in order to proactively deal with tasks of the 21st century."
South Korea has expressed interest in doing business in the Arctic in the past. A delegation from the Korean Gas Corporation visited Inuvik, Northwest Territories in January 2011 to consider the possibility of building an LNG terminal. South Korean ice-class tankers have also been purchased by Russian companies. While China is obviously interest in the Arctic for political, economic, and scientific reasons, South Korea's motivations seem to be more purely commercial (though it is also interested in polar research, as it has a station on Ny-Alesund). South Korea has quietly made big strides in the High North without attracting much attention, unlike China.
I wrote more about South Korea's interest in economic development of the Arctic here in April 2011.
News Links
"President Lee met with Norwegian Prime Minister," Norway – The Official Site in North Korea
"S. Korea, Norway agree on partnership for Arctic development," Yonhap News
"South Korean delegation visited the Ministry of Defence," Regjeringen.no