Child deaths fall to a new low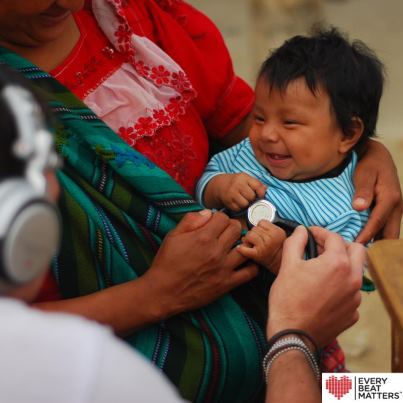 According to the United Nations for the first time the number of annual child deaths have fallen below seven million.  "The new child mortality estimates show that concerted efforts to get proven lifesaving care to children work and that, in the 21stcentury, children no longer need to die from preventable causes," said Carolyn Miles, President and CEO of Save the Children. "But the new report also shows that the low-cost solutions that could save these lives still aren't reaching many mothers, newborn babies and children – especially those who need them most.  Every American has the power to help change that."
Earlier this month to capitalize on this historic milestone -and continue to push to see that child deaths fall even lower- Save the Children has launched a new campaign, Every Beat Matters.  The new campaign seeks to give Americans easy and concrete ways to help accelerate the progress currently being made to and see an end to all preventable child deaths.  The campaign is aimed at creating a more sustainable effort in the fight to end child mortality by seeking donations to directly train front line health workers and provide the tools they need to save millions of children around the world.  The campaign not only seeks to support front line health workers, but connects them directly with their donor's in the international community through the personal blogs of a number of key health workers from around the world.  This unique approach to connect social media and front line efforts lets donors not only see the need for their support, but their donation in action saving children's lives.  By putting both a face to the children in need and those who support them, Every Beat Matters is already beginning to make a sustainable impact in decreasing preventable child deaths and increasing child welfare.
The new U.N. report ranks the leading causes of child death as pneumonia, premature birth, diarrhea, childbirth complications and malaria.  The report also shows that as deaths to all children under age five have dropped, those occurring in the first month of life have declined more slowly.  As a result, newborn deaths now account for 43 percent of child deaths — up from 36 percent in 1990.  Overall, the vast majority of child deaths — 83 percent — now occur in sub-Saharan Africa and south Asia.
Save the Children said it is a critical time for Americans to help maintain momentum following a "Child Survival Call to Action," convened in June by the U.S. government together with UNICEF and the governments of India and Ethiopia.  Healthier children are the foundation for more productive, prosperous and stable communities, which benefit everyone, the agency said.
"We know where the children are that still need basic care to survive birth complications and childhood disease, and we know how health workers can save them," Miles said. "It's an issue everyone can get behind because every beat matters."