CTBTO Advanced Science Course on Verification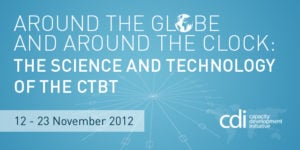 For those of you who don't agree with Senator Kyl and think the Comprehensive Test Ban Treaty is actually a useful regime, this course is for you.  And for those who do agree with the Senator, well, you might learn something.
The CTBTO will be holding an Advanced Science Course, "Around the Globe and Around the Clock: The Science and Technology of the CTBT", from 12 to 23 November in Vienna and online. The course will take an in-depth look at the science behind the verification technologies of the CTBT, as well as the conduct of on-site inspections to verify compliance with the nuclear test ban. It will will include live lectures from internationally-renowned guest expert lecturers as well as CTBTO staff, interactive sessions and site visits.
And here's the best part – its FREE!!
It can be completed in full online and is completely free of charge. You can register for the course here. Archived lectures from previous courses can be viewed on the CTBTO iTunes U channel, a link for which is available here.
The Advanced Science Course is a part of the Capacity Development Initiative, a key element of the CTBTO's training and education activities that aims to build and maintain the necessary capacity in the technical, scientific, political and legal areas of the Treaty and its verification regime.
So, go learn about the treaty regime which makes nuke testing a big no-no.