Grace, Milly, Lucy…Child Soldiers (2010)
This documentary is excellent.
It documents the after effects of war on three young women who were abducted as children and forced to serve in the Lord's Resistance Army (LRA).
That rebel Ugandan force, led by Joseph Kony, is notorious for kidnapping and forcing those captured to fight. For more than 20 years his group has abducted children to fight on his behalf, made sexual slaves of others, and has encouraged mutilation.
As many as 80,000 children have been forced into that army. Most people imagine young boys when they think of child soldiers but almost one-third of them are girls.

What this movie shows is how three young women address that situation.
One, Grace Akallo, now speaks out on behalf of northern Ugandan children.
Milly Auma has co-founded Empowering Hands, a group that seeks to help victims of war.
Lucy Achero struggles with isolation and the stigma she and her children face because they were part of the LRA.
Some were as young as nine years old when abducted and came to maturity in the bush.
Aside from the murder, they were forced to commit the girls became sex slaves ("wives" is the euphemism) and were repeatedly raped.
While Grace and Milly have moved on and are seeking to help others in similar situations, Lucy is a lost soul. While she may suffer from post traumatic stress disorder, Lucy has sought help through local tribal methods to rid her of "evil spirits."
Her situation is the hardest to accept: She killed and moved up in the ranks in part because she followed the orders unflinchingly.
Lucy killed because she had to kill to survive. She also learned that at a young age.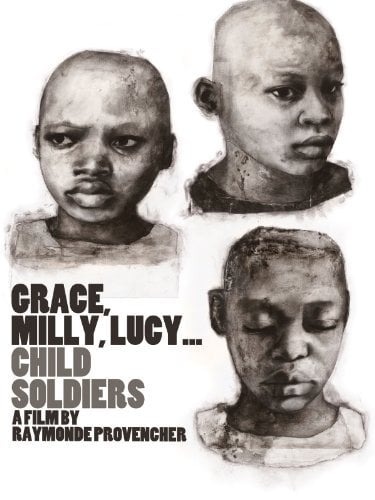 Of the three women featured in the film, Lucy is hardest to sympathize with.
And, many times, the child soldiers return to a homeland that has been ravaged by war or to a place where they are pariahs because of their service in a rebel army.
What is hopeful about "Grace, Milly, Lucy…Child Soldiers" is that the young women are standing up and speaking out. Instead of living with the shame of being raped and giving birth to "rebel children" they are providing compelling testimony that will help shine light on this worldwide problem.
They are using the loss of their innocence to counsel others who might face similar circumstances and help break the silence of the shamed.
What makes this film uncomfortable is reconciling the fact that the subjects have killed because they were following orders. It is the same situation faced by German soldiers during World War II.
More about the film and the plight of child soldiers can be found here.
According to the website, "An estimated 300,000 children are on active duty in armies and militias around the world."
"Grace, Milly, Lucy…Child Soldiers" is available to rent.
Murphy can be reached at: [email protected]