Going green in a traditionally unlikely region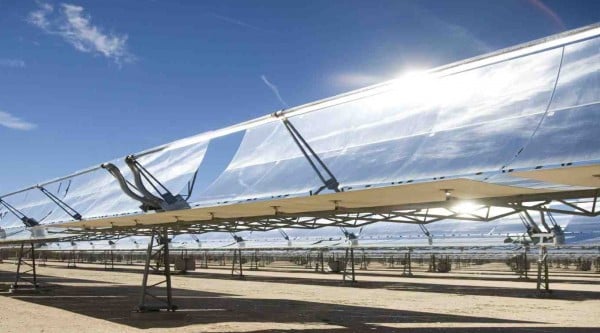 Growing global demand for energy continues to strain resource availability, which has spurred increased exploration for unconventional oil and gas, as well as accelerated exploitation of traditional fossil fuels. Renewable energy has increased exponentially worldwide over the past decade to combat these facts.
The Middle East and North Africa (MENA), and especially the Gulf Cooperation Council (GCC) nations, a region synonymous with oil, are implementing various renewable energy targets to supplement rapidly increasing domestic energy demand, produce other goods, as well as enabling more fossil fuels to be available for export.
Perhaps the most surprising vision is from Saudi Arabia. Despite its riches from sitting above proved oil reserves totaling 260 billion barrels, the Kingdom wants to switch from fossil fuels to 100 percent clean energy, according to Prince Turki Al Faisal Al Saud, which he admits can take decades.
This vision would include 41 gigawatt (GW) of solar capacity, about 20 percent of demand, over the next two decades; wind and geothermal also expected to contribute 21 GW. It has also signed a memorandum of understanding with Argentina to develop nuclear power. The kingdom recognizes its power supply is unsustainable in the long-term due to nearly two-thirds of it derived from oil with the balance mainly from natural gas.
In addition, rebuilding from nearly nine years of war, Iraq is attempting to bridge its 5 GW energy gap between supply and demand.  Holding the fourth largest proved global oil reserves totaling 115 billion barrels and producing more than more than 3 million barrels per day, by 2014 the nation hopes to grow its total power plant capacity of 9 GW to 20 GW.
Renewable energy will play a small role with an investment of 1.6 billion USD for 400 megawatt (MW) of solar and wind over the next three years. But it is worth noting it will play a role that is expected to increase over time. The government has invited 25 solar, wind and transmission developers to build projects. Each megawatt of solar or wind energy will cost around $3.5-$4 million.
Also surprising is the United Arab Emirate's new emphasis—a nation flush with 98 billion barrels of proven oil reserves, which ranks seventh globally. Dr. Sultan Ahmed Al Jaber, CEO of Masdar and United Arab Emirates Special Envoy for Energy and Climate Change believes, "The development and deployment of renewable energy is a clear solution to address the energy challenge."
Masdar, a commercially driven enterprise owned by Abu Dhabi's Mubadala Development Company, is currently at the forefront of sustainable projects. It is constructing Masdar City in Abu Dhabi which is planned to be one of the most sustainable communities in the world. Currently it is fully powered by onsite renewable energy which will be joined with external renewable power as construction continues. Masdar will house research facilities, businesses, commuters and 40,000 residents. It is also tasked to serve as a model for other cities and to export new knowledge, technology, and expertise.
Also in Abu Dhabi, Masdar is part of consortium that owns 60 percent of the Shams-1 concentrated solar plant (CSP), the first of its kind in MENA. The plant will have capacity to generate 100 megawatts of electricity and it is scheduled to become operational at the end of the year. Masdar is also part of Noor-1, planned to generate 100 MW solar photovoltaic panels and it is scheduled for completion by the end of 2013.
Abu Dhabiaspires to be an international hub for renewable energy, new energy and sustainable technologies to further diversify its economy. The emirate has implemented a target of generating 7 percent of its electricity from renewable sources by 2030—the target was pushed back from the original 2020 target, however.
Dubai, about 120 km north of Abu Dhabi, continues to become synonymous with wealth, tourism and grand engineering projects, has launched its strategy to gradually diversify its energy sources. The plan calls for 5 percent of Dubai's total power output will be generated using solar energy by 2030, 12 percent nuclear and 12 percent coal.
One part of its strategy is a solar park named in the honor of the Mohammad Bin Rashid Al Maktoum, which will have a 1 GW output by 2030. The project is state-run with an estimated cost 3 billion USD, and it will utilize both CSP and solar photovoltaic (PV). The Dubai Supreme Council of Energy has approved construction of a 13 MW PV power plant as the first phase of the project to be completed by 2013.
In addition, Kuwait holding 104 billion barrels of oil, ranking 6th globally, aims to generate 10 percent of its electricity from sustainable sources by 2020. And Qatar also flush with oil totaling 25 billion barrels, ranking 12th globally, wants to utilize 10 percent of energy via renewable sources.
Building upon Masdar, the region believes it is important to also expand its sustainable buildings, which can consume up to 70 percent of energy compared to 40 percent worldwide due to geography and building designs. Leadership in Energy and Environmental Design (LEED) is internationally used to certify green buildings and the Middle East has 1,348 LEED-registered buildings which surpass all but Asia and the United States. One example is the Msheireb Downtown Doha, which aims to be the world's largest sustainable community with 100 buildings using an average of a third less energy.
While fossil fuels will continue to be significant factors in these nation's economies, realizing the need to gradually implement sustainable practices and increase renewable energy can serve as a multiplier effect on other global regions. As prices for clean technologies continue to plummet and move closer to grid parity, investment in these technologies are anticipated to be vital parts of countries' future.