Bird Injury: Putin Officially a Lame Duck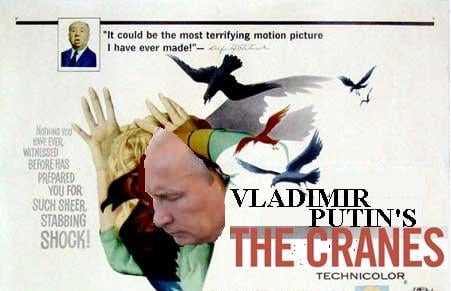 Looks like Putin's infamous crane flight has claimed another victim.
Two months after his unauthorised sequel to Fly Away Home, which reportedly resulted in several of the endangered birds getting killed and maimed, the Russian president has mysteriously cancelled a spate of domestic events and foreign engagements. Word on the street is of a back injury sustained while flying the motorised glider. Karma, anyone? Or maybe he was craning his neck too hard during the flight, eh readers?
Much has been written about the venerable Soviet tradition of covering up leaders' health woes. And it's difficult to avoid the irony of a leader so keen to constantly show himself as a vigorous and healthy man that he ends up bedridden as a result.
There are other, more painful ironies.
Putin came to power promising to break the oligarchs' stranglehold over the country. Today, Moscow has the world's highest concentration of billionaires.
He promised to clean up corruption; instead, Russia has slipped ever further down the rankings.
He promised to end capital flight, beat Russia's dependence on natural resources, and restore patriotism and national pride. Yet a new report by a respected think tank declares that Russia now essentially exports only three things: petrochemicals, money, and people.
The youth have are losing faith: 41% of those aged 18-24 admit to having considered emigration.
Another Levada Centre poll found that nearly half of all Russians no longer want Putin to stick around beyond 2018.
There are signs that he is aware of this looming sea change. He has cancelled his annual Q&A session with 'the people' – the official excuse was the cold weather; the 'actual' excuse was his bad back; but perhaps the real reason was a real fear of being booed again on live television.
It's telling that he now feel it necessary to clamp down on the internet – after 12 years of not fearing  the web – and beef up the anti-treason laws. Putin knows his time is up. He can feel it in his joints. Perhaps his injury is psychosomatic?
Yet all that is for the future. For now, he won the elections and subdued the unrest on the streets. The opposition remains scattered and uninspired. But Putin's new limp neatly underscores the increasingly widespread realisation that he has in fact become a lame duck.