Southern Cone Voting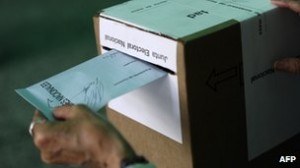 In recent weeks, two southern cone neighbors, Argentina and Chile, have demonstrated radically different youth voting tendencies. Culturally, economically and politically, Chile and Argentina's approaches toward just about everything are famously different; to say the two countries have a rivalry would be an understatement. Yet, as I sit on the Santiagan side of the Andes, I cannot help but marvel at the irony of how different attitudes are toward voting.
On Nov. 1, Argentina's President Christina Kirchner lowered the country's voting age to just 16 years. The act, in and of itself, is not cause for alarm; but the motivation behind it is. It is just one of Kirchner's polemic decisions that is sure to cause major backlash in various forms (not unlike the major protest in Buenos Aires Nov. 8).
Despite her declining popularity with the middle classes, Kirchner has managed to maintain a following among Argentina's youth. This is, in no small part, due to the popular political youth group La Campora, led by Kirchner's son Máximo.
The move incorporates some 1.3 million adolescents aged 16 and 17 into the voting populace. They will be able to vote in 2013 mid-term elections. Kirchner currently has a majority in both houses of Congress, but would need the support of two-thirds of the legislature to change the constitution so that she can run for a third term. Following this line of thought, it is possible that the youth vote will give Kirchner the legislators she needs to be able to change the constitution.
Meanwhile, here in Chile, political apathy is not just en vogue; it is a statement. On Oct. 29, regional elections were held in Chile, but only 40 percent of eligible voters turned out at polls. While Chilean disenchantment with politics has been known for some time, it was particularly obvious in this election, as it was the first time that suffrage was voluntary. Previously, registered voters were obligated to vote.
A decided abandonment of the polls was particularly acute among young voters. There are various reasons for this phenomenon, not the least of which is the idea that not voting is rebellious. But the high rate of abstention is also a sign of the discontent with President Sebastian Pinera's conservative Alianza coalition. Of those who did vote, only 37 percent supported Pinera's Alianza coalition for mayor and city council positions in the capital city of Santiago, while the leftist Concertacion coalition won 43 percent.
This portends well for a Concertacion comeback in the 2013 presidential elections; it is widely believed former President Michele Bachelet will run again. Despite the fact that many Chileans are not entirely enthralled with another five years of Bachelet, rejection of billionaire Sebastian Pinera's politics and personality are so strong, she is a shoo-in, should she decide to run.
So while Argentine youth are feeling empowered and politically passionate, there's an overwhelming sense among Chilean voters that the next election is already decided and the major youth issue – free education – is stagnant. What a difference the Andes make.