The Great Renewal of the Chinese Nation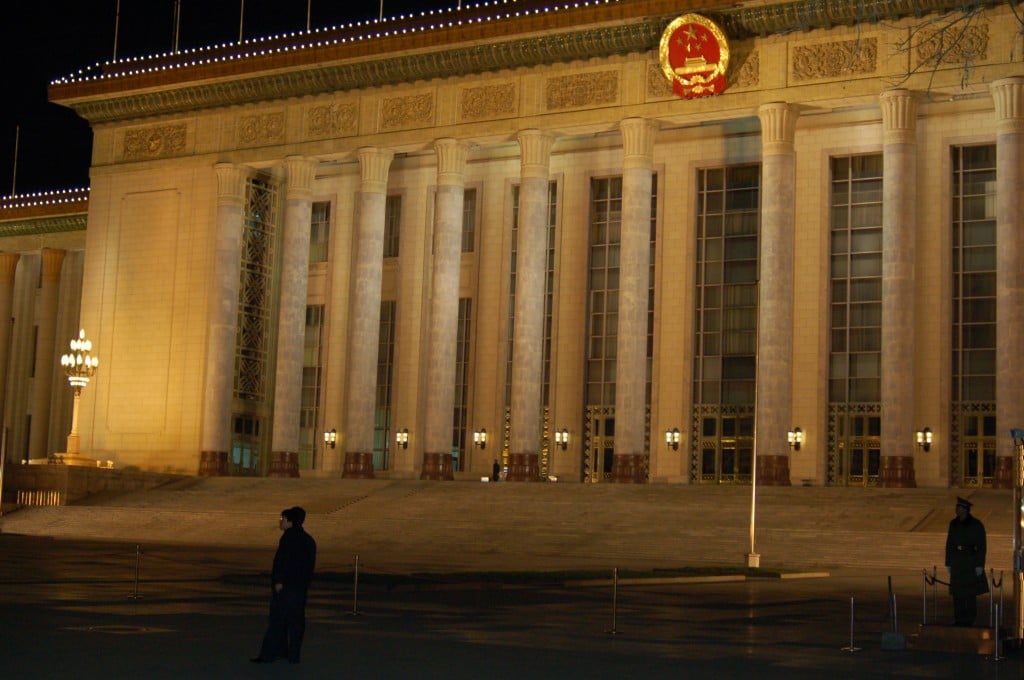 Reminiscent of the carefully-choreographed 2008 Beijing Olympics, China's unveiling on Thursday of the lineup of the new Politburo Standing Committee, its highest leadership body, took every precaution to ensure an orderly transfer of power. Security in Beijing was tightened, shops were ordered to remove fruit knives from their shelves, hotels opened and inspected all stored guest luggage, and taxi drivers were ordered to remove the cranks from their rear windows, lest any anti-government propaganda be thrown again into the streets. The 2,270 carefully selected delegates had cast their votes behind closed doors in Beijing's Great Hall of the People for the new Central Committee, a ruling council with around 200 full members and 170 or so alternate members with no voting rights which will determine the country's direction over the next decade.
As widely expected, the new Central Committee appointed Xi Jinping as general secretary of the Communist Party, replacing Hu Jintao, while Li Keqiang was named premier. The Politburo Standing Committee, the innermost ring of power with seven members, now includes Xi and Li along with former Vice Premier and Chongqing party chief Zhang Dejiang (an economist who trained in North Korea), former Shanghai party chief Yu Zhengsheng, former Propaganda chief Liu Yunshan, former Vice-Premier and financial guru Wang Qishan, and former Tianjin party chief Zhang Gaoli. The committee was reduced from nine to seven members, as many media outlets had predicted.
The new leadership appears to have been drawn along factional ties, in what seems to be a victory for former Chinese leader Jiang Zemin over the outgoing president and party secretary Mr. Hu. Of the seven on the new committee, only Li Keqiang and Liu Yunshan, a 65-year-old who had been keeping a tight rein on domestic media, are viewed as being strongly allied with Hu. More surprisingly, it was expected that Hu would cement his legacy and influence by remaining head of the Central Military Commission, and continuing a tradition in which exiting party leaders kept hold of the military portfolio for several years. If Hu held out the promise of bold reform for some, this seems to have been squashed by the failure of the committee to promote the reformers Li Yuanchao, Wang Yang, and Liu Yandong. Mr. Li studied briefly at Harvard's Kennedy School in 2002, and was responsible for pilot schemes to enhance democracy within the party. Wang Yang, Guangdong province's reform-minded party boss, had eased restrictions on nongovernmental organizations and won international plaudits for negotiating a non-violent settlement with local villagers who took over the village of Wukan, following a land grab by local officials. Although failing to reach the inner circle, Wang, along with Shanghai party chief Yu Zhengsheng and Liu Yandong, were elected to the less powerful Central Committee.
In his welcoming speech, Mr Xi acknowledged China's new leaders faced "severe" challenges, including rampant corruption, but would battle to improve people's lives and not lose touch with the population (a population that has understandably shown little interest in following the leadership changes). Mr. Xi concluded, "Ours is a political party that serves the people wholeheartedly. We have every reason to be proud. Proud but not complacent. We will never rest on our laurels." If the composition of the new Politburo Standing Committee is any indication of the direction of political and economic reform in China, those Chinese people hoping for bold reforms and the great renewal of the Chinese nation may have to wait a little while longer.