Is Desertec set to burn away in the desert?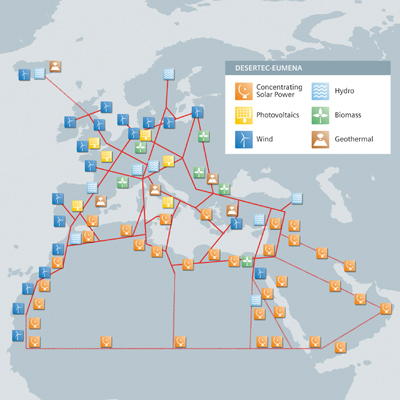 Source: Siemens.com
The Desertec Industrial Initiative (Dii) is an extremely ambitious venture that has the goal to construct a large network of renewable energy power plants and transmission lines to span some 16,000 km squared throughout the Middle East and North Africa by 2050. In sum Dii, which is headquartered in Munich, is projected to produce 125 GW of renewable-power capacity
The final output is planned to satisfy 100 percent of local electric energy needs and will be distributed via the new network, and about 15 percent of Europe's needs will be distributed via planned high-voltage direct current (HVDC) cables submerged under the Mediterranean Sea. Dii staff cites the project's necessity to improve energy security, meet increasing energy demand, and reduce fossil fuel use while helping the EU member states reach a 20 percent share of energy from renewable sources by 2020—Germany is dually interested since it has planned to abandon nuclear energy.
With both Siemens and Bosch recently withdrawing their support for Dii, the ambitious project seems to continue to lose steam. A spokesman said Dii denies this news changes its agenda. The company's actions came shortly after the Spanish government's reluctance to support one of Dii's first projects to export electricity to Europe from Morocco: a 100 MW photovoltaic power plant, 100 MW wind power plant and 150 MW concentrated solar power (CSP) power plant, citing difficulties in finding the subsidies needed.
Desertec was set up in 2009 with a projected budget of $510 billion (about €400 million) to tap the enormous potential of solar and other renewables in North Africa, but those monetary figures are far from being realized, as demonstrated by Spain's example, nor is the money there in other nations. A member of the German Free Democratic Party stated: "The rarest resource in Europe is money." In simple terms, it shines a light on the role the private sector must play to bring the project to scale.
With energy consumption predicted to climb on both sides of the Mediterranean, utilizing the solar potential of the Sahara Desert is understandable. According to a study by the German Aerospace Centre (DLR), less than 1 percent of suitable land in the North Africa and the Middle East would be needed to cover the current electricity consumption of the region and Europe. The sun is available more than 4,300 hours a year to produce electricity. In six hours these desert regions receive more energy than all of mankind consumes in a year.
However, there are estimates that in order to build in the Sahara, up to 90 percent of the energy generated would have to be exported to Europe in order to cover the initial needed capital investment. Furthermore, since its inception in 2009, no substantial ventures have been completed.
The scale of the project is immense and would stretch across various borders, regions and encounter many challenges, presenting numerous additional stumbling blocks. There are also the potential for electric losses during the transmission of the new solar electric energy while traveling vast distances, which can lead to producer consumer/disputes. For solar energy to be competitive in North Africa, fossil fuel subsidies will need to be greatly reduced as well, which proves challenging.
In addition, there is no common energy market, so working towards an integrated, liberalized space would be beneficial but clearly difficult. For successful development, a strong regional framework is necessary to solve possible transnational border issues, gather funding, form partnerships and create policy.
The new geopolitical dynamic across the region after the Arab Spring adds one more convoluted layer to the puzzle.
There is also the fundamental question of what is sub-Saharan Africa's role? If the Sahara is going to be tapped for its solar potential and sent across the Mediterranean, how can neighboring nations to the south not benefit? Especially when nearly 7 out of 10 people do not have access to electricity there. Granted the transmission network would need to transverse immense distances through a harsh climate and topography. Also, a vast amount of those affected live in rural areas, which would be difficult to reach with centralized power grids.
Despite these challenges and the withdrawals by Siemens and Boesch, Paul van Son, CEO of Dii, remains optimistic. He understands the project breadth and cites the remaining shareholders in the 56-member Desertec scheme in 15 countries that include RWE, E.ON, Deutsche Bank, ABB, and the German reinsurer Munich RE as a reason to continue championing the project. What's more, discussions are under way on the possibility of the State Grid Corporation of China (SGCC) and American firm First Solar becoming shareholders.
The objective is good and wide-reaching, but the question remains of how feasible implementation will be.