Opinion: Cutting Aid Will Help End African Corruption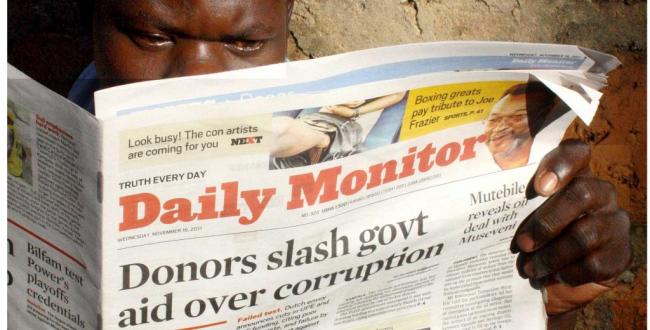 Guest Post by Andy Kristian Agaba
Four European governments froze some aid meant for Uganda following the discovery of massive corruption in the Prime Minister's (PM) office. A forensic audit by the Auditor General's office unearthed endemic theft of funds totaling to more than $25 million. Most of this money was meant for reconstruction of Northern Uganda, an area recovering from a two decades civil war between the Lord's Resistance Army (LRA) and the Government of Uganda. In fact, reports of misappropriation of funds in the same office relating to reconstruction first came to light in 2007 when one of the prominent leaders of Northern Uganda, Norbert Mao, exposed through the local media a $2.5 million procurement of "fake pangas and fake seeds." 
At that time, rather than deal with the malaise, the PM's office chose to accuse local officials in Northern Uganda of sabotaging the government, a claim that implied that some individuals from the opposition had deliberately purchased and replaced good materials with bad ones to discredit the government. But that is far from the truth. In fact, as recent as two months ago the same office was accused of providing rotten food infested with weavils and magots to nodding disease patients. Never mind that the government was not willing to quickly provide resources and immediate response to the victims of this rare disease.
For years, the citizens of Uganda have found foreign aid partners complicit with the ongoing corruption in Africa and have spoken of their unwillingness to demand accountability from these governments. This carte blanche with which money is given and then eyes shut has not only benefited the ruling class, but has enabled it to cement the stranglehold on power through which public funds are used to bribe the elite: to buy toys, real estate and luxuries, and to fly government officials and their children for medical treatment abroad while the dilapidated local healthcare systems continues to crumble in free-fall. According to the Daily Telegraph, in 2003 President Yoweri Museveni flew his daughter in the presidential jet so she could give birth in Europe. The trip reportedly cost around £70,000. All of this has happened under the watchful eyes of foreign diplomats who regularly dine and wine with these criminals at high end parties and dinners. They have known of this unacceptable behavior, but why has it taken so long to take some action of this measure?
Therefore, when last month the United Kingdom suspended all aid to Uganda following the forensic audit in the PM's office, this was celebrated quietly and widely in Uganda. You may think that the citizens of Uganda would be worried about the UK's action, but that is far from the truth. That is because when the aid was flowing in, it never reached the people it was intended for. When government's suspended Rwandan aid, the Rwandans created the Agaciro sovereign fund in which citizens contributed their paychecks to make up for the lost aid. The circumstances under which Rwandan aid was suspended are very different from those of Uganda. People of Rwanda believe in their government to be a good steward of the resources, and I guarantee you, that not a single Ugandan would contribute to such a fund created by the Ugandan government – not the ministers, not the president, no one!
At the head of the ministry is an individual, PM Amama Mbabazi, who in the last two years, has been named in more than four major corruption scandals. Albeit the rote at the ministry began before he became PM, it is hard to imagine that none of this mess happened under his watch – he has served as PM for a little over one year. He is also under fire for cruising around a newly acquired expensive Mercedes Benz that the ministry bought him instead of investing that money in development programs.
Year after year, the government of Uganda under Yoweri Museveni has abused public funds with no real consequences. In the 27 years that Museveni has been president, no single minister or senior official has spent any meaningful time in jail. In fact, the president continues to employ and defend those accused of corruption, insisting that there is no evidence to implicate his loyal officials. It is therefore not farfetched to say that Museveni aids and abets the grand scheme of corruption. Uganda is a mainstay on the lists of East Africa's most corrupt countries, reported by Transparency International as being number one. Ironically, it is also Africa's 8th fastest growing economy, which reinforces of the belief that with a more transparent government, Uganda's economy and service delivery could be much more efficient.
The UK and all development aid partners must demand responsibility and accountability from all aid recipients. There is no reason why a government that does not spend responsibly should continue to receive development assistance. All aid should have conditions; for example, money should not be used to buy expensive vehicles. If a "poor" government should spend $2.3 million to buy just two vehicles like Museveni's just did, why should taxpayers of the UK or the US or Canada or Japan or Ireland foot that bill? Development partners should consider freezing assets of suspects and imposing travel bans for suspects and their families. But most importantly, they should consider a paradigm shift in development aid in which they work directly with nonprofits and social enterprises.
Andy Kristian Agaba is a Native of Uganda, East Africa. He is the Founder and Chief Executive Officer of Hiinga, a Nonprofit Social Enterprise Working to End Hunger and Alleviate Poverty in East Africa.