Mayhem from heaven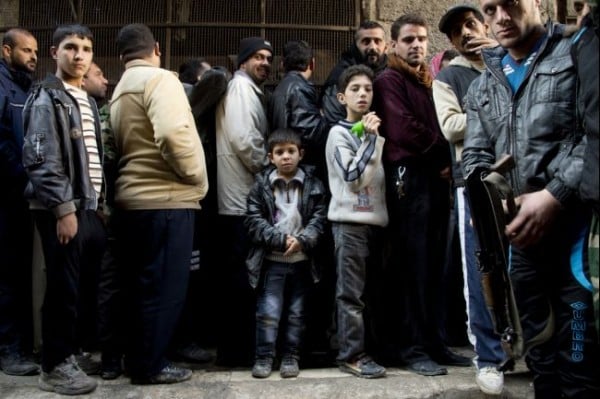 It was only two months since the fighting ignited in Bosnia. Scary, but not yet out of control. But food was already getting tight so the spring air – and rumors of bread available – brought the citizens of Sarajevo out to the market for a hastily formed bread line.
That was May 27, 1992, when the bread was available – and so was the opportunity for slaughter. The bread arrived and then the mortar shells arrived. When the attack ended, 16 were dead. It shocked the city and much of the world – although the world did nothing at the time.
Last week, 20 years and almost seven months to the exact day, hundreds of Syrians were in line for bread outside of a factory in Halfaya when mayhem again came from the sky. Syrian air strikes killed dozens, perhaps more, at the only functioning bakery in the region.
It was not the first time during the 21-month Syrian conflict that those trying to buy bread have died in bakery bombings, according to reports.  Just like in Sarajevo – when subsequent market attacks in 1994 and 1995 left 68 dead and 200 wounded and 37 dead and 90 wounded respectively – the lure of easy civilian annihilation is too tempting to pass up.
In this week's attack, the Washington Post reported one bystander said this: "The street was like a river of blood, with bodies scattered everywhere." That is almost a word for word of the description of eyewitness comments from Sarajevo.
http://www.washingtonpost.com/world/syrian-airstrike-kills-dozens-at-bakery/2012/12/23/a311006a-4d28-11e2-950a-7863a013264b_story.html
Scaringly similarities between Syria and Bosnia — the bloodiest conflict in Europe since World War II — have been noted before and are worth repeating.
Halfaya is not Sarajevo, but perhaps Aleppo is. It is a ruin as the conflict strips its soul.  Snipers troll the city, large parts of which are now rubble.  Like Sarajevo, it was once the commercial capital of its country; now it is a battleground of house-to-house combat between rebel and government forces.
The inability of the intentional community to foster a solution as the grisly toll increases is another similarity. So too is the lack of leadership by the United States and other nations – all waiting until that tipping point. Translation: more suffering, more dead voices and a more difficult road to recovery.
Once again, Russia is at odds with the rest of the world, delaying any possible plan for resolution. Once again, there is a respected U.N. mediator who cannot seem to make any headway.
Lakhdar Brahimi, the international envoy, left meetings in Damascus saying a transitional government should be granted full executive powers until new elections can be held. He did not say who would serve in such a government, and he offered no details about the role Syria's president, Bashar al-Assad, would play — if any — during the transitional period. "This government must have all the powers of the state," Mr. Brahimi said. His remarks to journalists in Damascus followed intensive talks with Mr. Assad and a range of opposition figures.   "The Syrian people seek genuine change," he said.
http://www.nytimes.com/2012/12/28/world/middleeast/syria-conflict-developments.html?_r=0
U.S. and European officials continue to predict that Assad will be out of power within a matter of months; that now has been said for months. At a Sunday press conference, Syrian government's information minister Omran al-Zoubi, had a message for them: "Forget about this," he said.
Under international law, it's a war crime to target civilians in a war zone. That hasn't halted the tactic in Syria, where hundreds of civilians have died in attacks such as the one in Halfaya.
And the people know they are targets. Empty stomachs and hungry children make one take risks.
As the Associated Press reported from Maaret Misreen, Syria, a helicopter flew above the town's only working bakery earlier this month, where a long line had formed, sending some people running for cover. A bomb crater outside the Maaret Misreen bakery's bread distribution window bore witness to what residents say was a deadly attack several weeks ago.
Still, many were so eager to keep their place in line that they didn't budge when they heard the whirring of the helicopter's rotors. "People are afraid, but they got used to it," said Yasser Bajar, a 35-year-old laborer and father of three who last had a paid day of work four months ago. He had been in line since the morning and had just collected his bread when the helicopter appeared overhead, then veered away.
http://www.washingtonpost.com/business/lacking-money-experience-rebels-try-to-run-syrian-town-plagued-by-water-power-shortages/2012/12/16/2527f4ee-47ae-11e2-8af9-9b50cb4605a7_story.html
The Christian Science Monitor noted that one civilian, in a video released by Syrian rebels claiming to show the aftermath of the Halfaya bread line bombing, is shown screaming at the camera, "Where is the world? Where is the outrage?"
http://www.csmonitor.com/USA/Foreign-Policy/2012/1224/In-war-torn-Syria-tactic-of-targeting-civilians-is-on-the-rise
The citizens of Sarajevo asked the same question repeatedly. It took several more massacres in food lines, markets and fields throughout the countryside, dozens of mass graves and rape camps, before the world finally answered three years hence.
Brahimi did note one truism. "There will be no victor in this war," he said.
(Photo: Getty Images)