How Women Made Their Mark on the World In 2012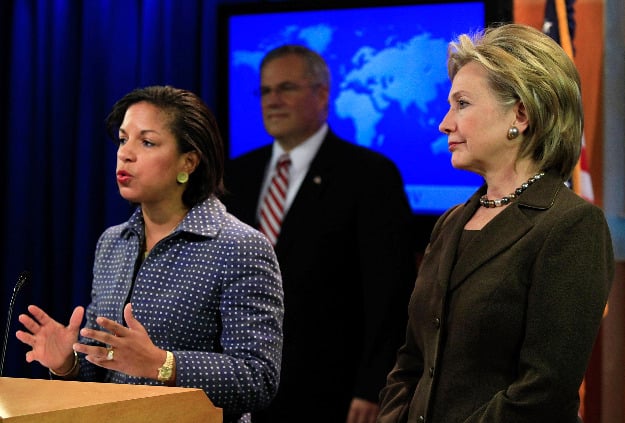 As a producer of global affairs television programming for the better part of the past decade, I've long been dismayed by the fact that the pool of guests we're often forced to draw from is so heavily male-dominated. In my experience, women tend approach the global challenges America faces through a different prism from men, and not always in ways we might be predetermined to think. In an era when creative thinking is critical to addressing international challenges like the fallout from the Arab Spring, dealing with defense spending cuts and fighting terrorism—not to mention a host of "soft" power challenges like global development and human rights—we need as many policy perspectives as we can get.
Luckily in 2012, women played a prominent role in creating and influencing foreign policy on an unprecedented scale, and topics like gender-based violence, economic empowerment, food security, and health—collectively referred to as "Global Women's Issues" by the State Department—have risen up the totem pole in terms of U.S. priorities.
Of course, the relatively recent tradition of the president appointing a woman as the nation's top diplomat has helped drive this phenomenon. And no single person embodies the ability of women to impact the world more than current U.S. Secretary of State Hillary Clinton, who is rumored to be considering a full-time foray into promoting global women's issues when she leaves Foggy Bottom early next year. An instant frontrunner should she choose to run for president in 2016, Clinton has managed to put her own stamp on her tenure as secretary of state despite policies largely emitted from the White House—and become something of rock star in the process.
Her brokering of the release of Chinese dissident Chen Guangcheng, who escaped from house arrest in his village ahead of Clinton's visit to China last May, defused what easily could have been a diplomatic disaster by deftly negotiating Chen's travel to the United States to study at New York University. Clinton scored another diplomatic victory in her recent trip to the Middle East, where she worked with Israeli leaders and Egypt's new President Mohamed Morsi to put an end to a week of fighting between Hamas and Israel.
Another diplomatic force in 2012 has been the controversial U.S. Ambassador to the United Nations, Susan Rice. Known for her sharp mind and uber-direct style, Rice withdrew her name to replace Clinton at the State Department following the controversy over her media statements following the September 11 terrorist attack on the American consulate in Benghazi, Libya. Indeed, the Beltway brouhaha that has dominated discussion on Rice has largely overshadowed her real achievements in Turtle Bay, where she convinced both Russia and China to support the U.N. Security Council mandate that led to the NATO intervention in Libya. She also was instrumental in pushing for some of the harshest U.N. sanctions against Iran for its suspected nuclear program, and has taken a similarly strong line against the regime of Syrian dictator Bashar Al-Assad.
Rounding out the trifecta of women with tenures at the State Department who impacted the world in 2012 is Anne-Marie Slaughter, former director of policy planning and now a professor at Princeton University. While Slaughter continues to weigh in heavily on issues like intervention in Syria and a host of other foreign policy challenges, her article in the July/August issue of The Atlantic brought renewed attention to the plight of alpha women seeking to sustain their careers and their families.
Women in media also continue to work on an upward trajectory when it comes to impacting discussion of global affairs. Most recently, the film Zero Dark Thirty, by Oscar winning director Kathryn Bigelow, has reopened the national debate on the U.S. use of torture in the fight against al Qaeda and its ilk. The film, inspired by real life events, features a female CIA agent in the lead. The use of harsh tactics in the fight against terrorism were also brought to attention by 60 Minutes foreign correspondent Lara Logan in October at an association fundraiser, where she argued that the United States must be more aggressive in taking on those who seek to destroy the West.
Finally, women who were the subjects of media attention also helped shape the way the world viewed global events in 2012. Malala Yousafzai, the 15-year-old Pakistani girl who was shot by the Taliban for blogging about her support of girls' education, is a top contender for Time magazine's  Person of the Year and has brought the world's attention to her just cause. And who can forget Nafissatou Diallo, the New York City maid who won a settlement against former World Bank President Dominque Strauss-Kahn, for alleged sexual assault? Her coming forward derailed DSK's hope to become president of France, and exposed a history of dodgy behavior in the highest halls of power.
Of course, these are just a few of the many, many women who continue to make a real impact on the world we live in. To see more, check out Tina Brown's Women in the World initiative and Forbes's list of the 100 Most Powerful Women in the World.
This article originally appeared in U.S. News and World Report.