Putin orders 2013 to begin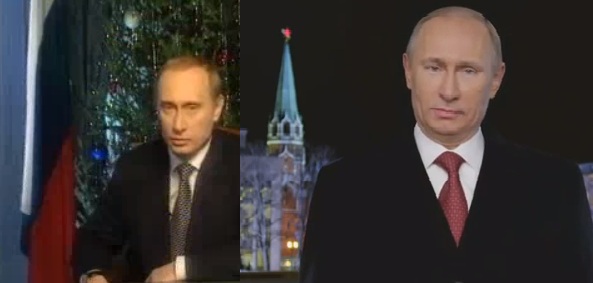 How you usher in the new year says a lot about a country.
In the capital of capitalism, Americans huddle amidst the neon billboards of Times Square; according to wine-growing tradition, the Spanish eat a dozen grapes; Italians tuck into a stuffed pig trotter accompanied by lentils, symbols of good fortune and prosperity reflecting the culture's deep love of food and the land.
Russians, for their part, gather in front of a televised address from the Kremlin: the New Year will come only when Putin says it will.
And this is his first one, back in 1999.
At that time, Putin said that Russia "chose the path of democracy and reforms."
 "Freedom of speech. Freedom of conscience. Freedom of mass media. Property rights… These basic principles of the civilized society will be safe under the protection of the state."
Twelve years on, there was a lot less hair on Putin's head, and less time in his speech for such references to rights and freedoms. Instead, the president said this last night: "As we face the future, we naturally hope for positive, joyful changes." It was a tellingly cryptic remark, at once seeming to give hope for reforms while faintly faintly suggesting, with the next sentence, that such hopes are naive and somehow irresponsible:
"Our personal plans are inseparable from Russia, from our heartfelt, noble feelings toward our Homeland."
Perhaps the only thing we can be sure of in 2013 is that come December 31, Putin will be once again back on our festive screens. Of course, that's what everyone thought Yeltsin would be doing in 1999.