Mr. Assad, meet Mr. Milosevic….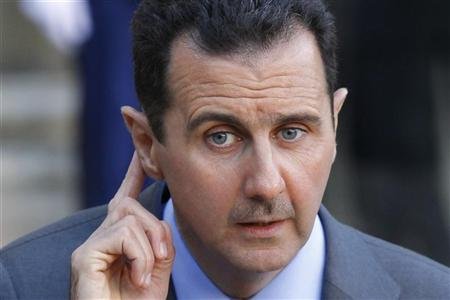 Bashar Assad, let me introduce you to Slobodan Milosevic.
Technically, you cannot shake his hand – at least today. Milosevic died in his cell in The Hague, after the nation that he led into war and ruin emerged to form a tentative democracy. The new Yugoslav leadership traded Milosevic for economic and political benefits with Europe; Milosevic was sent to trial and the country he believed could not exist without him said they could.
Perhaps, President Assad, you should take note.
When he won reelection in 1992 and commanded the loyalty of the people, Milosevic thought it would never end. And his words, in the rare times he spoke in public at a pre-election rally, sounded much like you did in your last speech in mid-January.
Those similarities between Bosnia and Syria continue to grow and, in the case of Assad, may point to a likely ending – but not until much more carnage, bloodshed and horror.
Then and now, no true international response. Russia blocking the way for a negotiated settlement and protecting its pal (Assad now, Milosevic then); a feckless, impotent regional security organization (The Arab League now, NATO then), dictators making the Parade list of worst dictators in the world.
And it's worth remembering that Syria, like Yugoslavia, was invented after World War I on the remains of a collapsed empire.
Thus we have the Mideast Milosevic.
According to U.N. estimates, over 60,000 people have been killed in Syria since the uprising against Assad began in early 2011. Recent months have witnessed an escalation in the conflict, which is now in its 23rd month.
That still is far  from the estimated 200,000 deaths estimated for Bosnia but that conflict lasted almost four years.  And the threat of chemical weapons did not exist in Bosnia as it does in Syria.
Like Milosevic, Assad remains confident that he can ride out the maelstrom engulfing his country, casting into doubt prospects that intensified efforts to negotiate an end the war can succeed. The U.S. State Department condemned him for being "out of touch with reality." But many Syrians wonder whether it isn't the United States and its allies who are out of touch.
http://www.washingtonpost.com/world/assad-still-confident-that-he-control-syria/2013/01/12/2e24a62e-5d01-11e2-b8b2-0d18a64c8dfa_story.html
Allies Russia and Iran have shown no sign that their support is wavering, and they have their own reasons not to cede ground in the struggle for influence over a country whose strategic location puts it at the crossroads of multiple regional conflicts. And Russia, which backed both Milosevic and Assad, is far more assertive and willing to challenge Western powers now than it was during the 1990s.
On January 15, Russia said it would be "counterproductive" to refer war crimes committed in the Syria conflict to the International Criminal Court as proposed by dozens of states led by Switzerland. The 15-member U.N. Security Council is the only body that can send the case to the ICC but Russia wields veto power.
Crucially, Syrians say, Assad remains convinced that neither the United States nor its allies will intervene militarily to help the rebels overrun his forces entirely. That conviction has been buoyed by indications of growing U.S. concern at the expanding role of Islamist extremists in the already-fragmented rebel army. That certainty of non-U.S. intervention also kept Milosevic secure in his own mind.
Like Milosevic, Assad thinks he can get out of his jam still through the ballot box. He told his ministers he intends to play a role in any potential transition government and will stand for re-election in 2014.
As the New York Times wrote, Assad "sits in his mountaintop palace as the tide of war licks at the cliffs below…(and) can gaze toward several possible futures."
The Times pondered Assad heading north, as one option, to the coastal mountain heartland of his minority Alawite sect, ceding the rest of the country to the uprising led by the Sunni Muslim majority.
http://www.nytimes.com/2012/12/25/world/middleeast/no-easy-route-if-bashar-al-assad-opts-to-go-or-stay.html?pagewanted=all&_r=0
That seems unlikely. The more likely options are a negotiated way out, a flee to a friendship landing strip, or death.
Milosevic wound up in jail, where he died in 2006, convinced he could win in court and walk away free. Others have found homes away form they countries they destroyed.
When Milosevic gave up his grip on power, Yugoslavian media reported that his son had fled to Russia with his wife and child. At first, officials in Moscow denied the claims. Yet, over the course of the next eight years, they not only confirmed his presence but also went on to give political asylum to his wife, son, and brother. His wife and son still live in luxury, though quietly, in Borviha, a posh outlying district of Moscow not far from Russian President Vladimir Putin's residence.
Russia may be a good bet.
In 1991, Mikhail Gorbachev let Eastern Germany leader Erich Honcker and his wife, Margot Honcker, escape from their raging constituents and become guests in Moscow. More recently, under Putin's rule, Russia has welcomed Aslan Abashidze, the former leader of the breakaway republic of Adjaria in Georgia, who is wanted by Georgia's courts for murder, misuse of office, and embezzlement, has been living in Russia since 2004, and the former president of Kyrgystan, Askar Akayev, and his family who came to live in Moscow in 2005 after Kyrgyz opposition stormed the presidential palace in Bishkek and seized control of the state.
http://www.thedailybeast.com/articles/2012/07/22/where-can-syria-s-asma-assad-go.html
Borislav Milosevic, brother of Slobodan, said family members have been "getting on swimmingly" since the Yugoslav conflicts faded from the news. "People come from Serbia to visit," Borislav Milosevic said in a telephone interview. He said they lead a "respectable, normal life."
www.theage.com.au/world/assad-could-find-sanctuary-in-town-of-deposed-leaders-20130101-2c44h.html#ixzz2I4APso9f
They can be there to say hello to Assad when he arrives. For the Syrian leader, that is almost like shaking hands with the man itself. Of course, some in Syria may prefer the other, more direct option.
(Photo credit: Reuters)